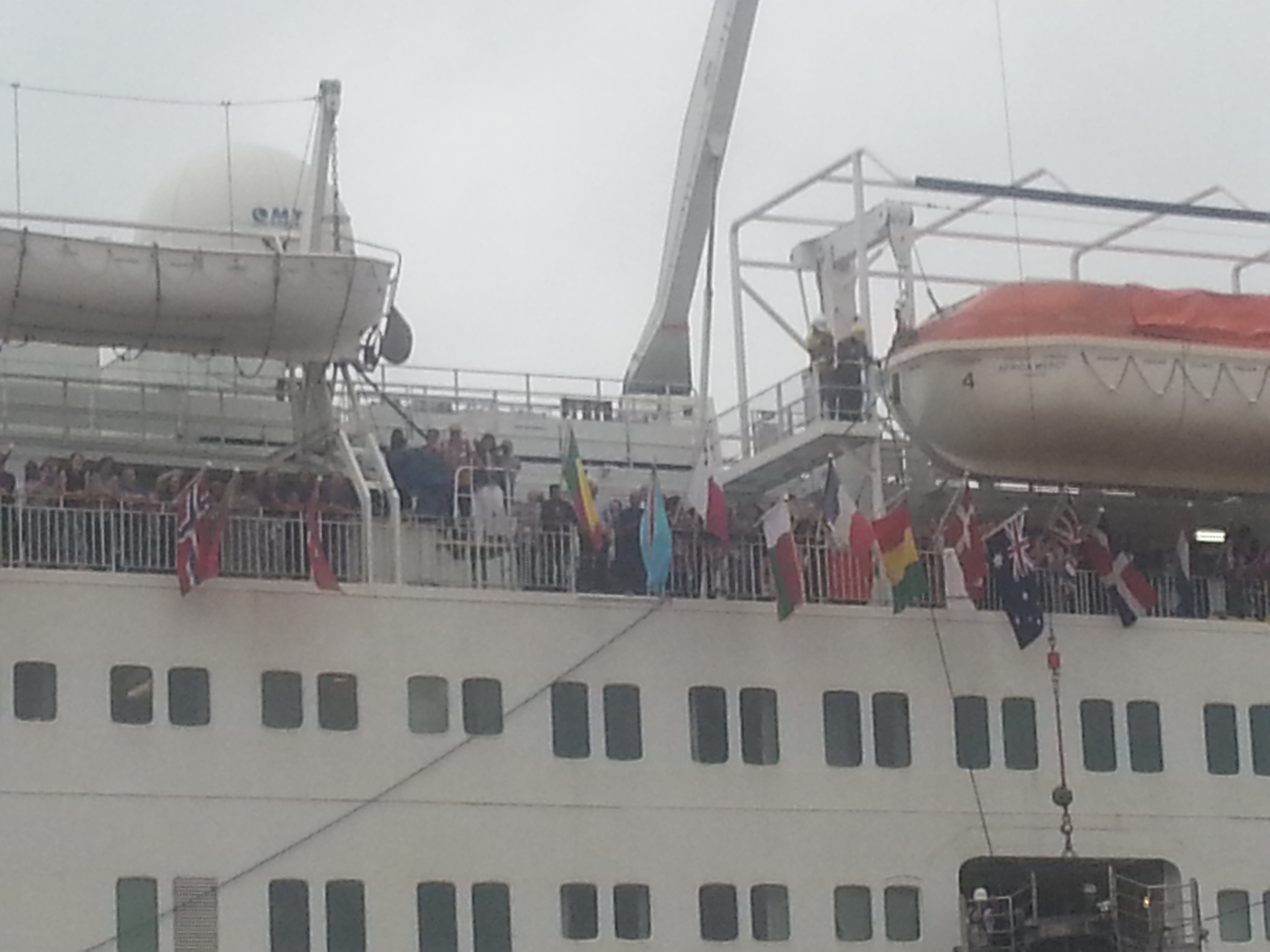 Douala, Cameroon-Wednesday August 16, 2017-7:00 PM Local Time (Cameroon News Agency) The famous Africa Humanitarian Organization called Africa Mercy has arrived in Cameroon for a 10 months mission in which certain rare diseases will be treated.
The 23 metres tall and over 152 metres long white ship anchored at the Douala Sea Port early Wednesday August 16, 2017 with over 400 persons on board,200 support staff and over 200 nurses and surgeons.
The Mercy Ships which is in Cameroon to treat patients suffering from rare diseases and who had registered since April 17 to May 17, 2017.
With about 200 workers, the Mercy Ships has 5 operation wards, 82 rooms, three gigantic tents erected at the sea port for consultation and 8 Range Rovers for movement.
Ports Authority GM middle With Director of Operations Mercy Ships
The Director of Operations Sandrine Bussy reveals that the Ministry of transport has promised to transport all patients from the meeting point at the Party House in Bonanjo where patients will converge before being taken to the Mercy Ships.
Three hospitals will be working in collaboration with Mercy Ships, the Laquintinie, gyneco-obstetric and Nylon District hospitals.
The Laquintinie hospital will receive dental cases while the Nylon hospital will be receiving post surgical cases.
Thousands of Cameroonians, about 5000 have registered to be checked at the Mercy Ship and CNA gathered that they all know the days of consultation and operation and will be coming as programmed at the Part House starting next week.
The Director of Operations has also revealed that treatment will begin first week of September.
Rare diseases such as Maxillofacial, Reconstructive plastic,Orthopedic among others will be treated
.