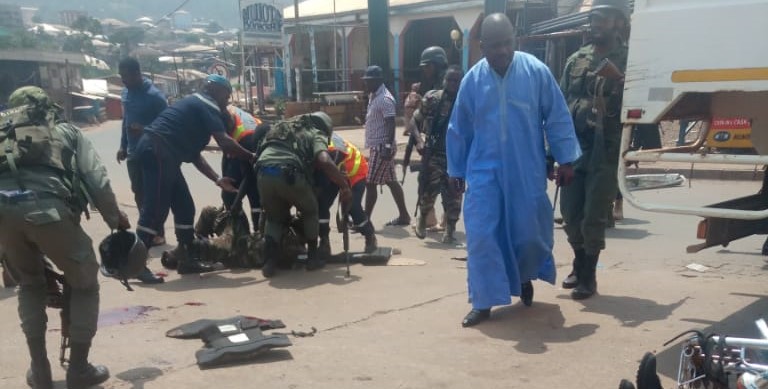 The explosion of an Improvised Explosive Device, IED which took place some 100 metres opposite the Commercial Avenue ceremonial ground when North West Governor Lele L'Afrique Adolphe was delivering women's day speech on March 8, 2020, at about 10 AM local time, left at least 8 wounded, two in critical condition.
The attackers, alleged Ambazonia fighters, were on a motorbike from the direction of Old Town and teleguided the explosive before fleeing through the wide dual carriage of the commercial avenue, a security source told CNA.
A total of 8 people were injured; 5 soldiers, 1 civilian and 2 Policemen.
Two of the soldiers had their legs almost totally amputated, three others suffered injuries on their arms, legs, and faces, two Police officers and the civilian had minor injuries.
They were taken to the Bamenda Regional Hospital pending evacuation of those seriously injured by helicopter.
This happened barely a few hours after suspected Ambazonia fighters attacked the Gendarme and Police Post in Galim, West region killing two Gendarmes and two Policemen.