Front page
Spotlight
Trending
Cameroon-Anglophone Crisis : Nico Halle Appeals To President Paul Biya To Address The Nation In Soft Tone, Says Money Gained From Crisis Is Blood Money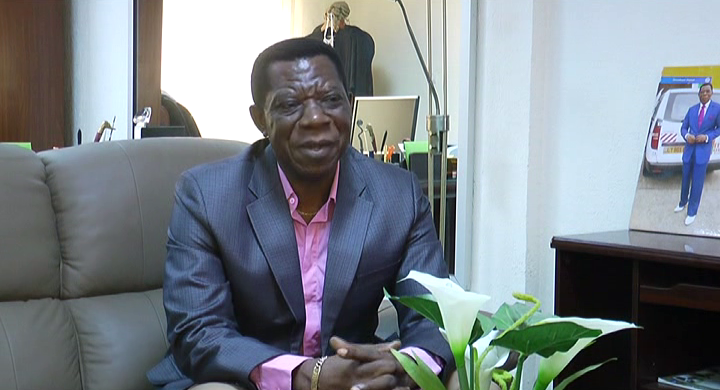 Douala, Cameroon –Friday December 29, 2017- 5:30 PM Local Time (Cameroon News Agency) After spending two weeks in the two English speaking regions of Cameroon recently, peace crusader, Ntumfor Barrister Nico Halle has pleaded on President Paul Biya to use soft tone when addressing the Anglophone crisis. He cautioned those making money or political gains from the crisis to desist from it because money gained at detriment of others is 'blood' money.
Read every step taken by the international peace crusader during his tour, in this mouth watery interview granted to CNA.
CNA– Good day Ntumfor Barrister Nico Halle, you are a legal mind and an international peace crusader, known for your advocacy for peace, it is within this context that you embarked on a two weeks mission to the North West and South West regions of Cameroon; what were the major reasons for such a mission.
Ntumfor Barrister NICO Halle:  Eh! Eh! Nchanji, Peace crusading is an ongoing exercise; mission and I have been into it for more than 26 years. If there is peace that reigns in the North West in particular and in Cameron in general, I do not want to take credits, but I want to say that considerably, God has used me; the almighty has used me. Frail as I am, like he will use you, frail as you are, like he used so many people in the Bible with short comings to do great things.
Peace is the greatest weapon, asset and value. I knew this while I was still young, through my father who was a man of God, very much took peace as part of him.
The peace that I am talking is not peace that exists in isolation. Peace that I am crusading is preceded by some core values, spiritual and moral core values, namely but not limited to love, justice, equity, transparency, accountability, democracy, harmony, patriotism, the rule of law and you name them. These are core values that make a condusive environment for peace to take the pride of place. Take away these values; you can't be talking of peace. When the constitution of a structure, your development association or community is raped, manipulated, peace can never reign.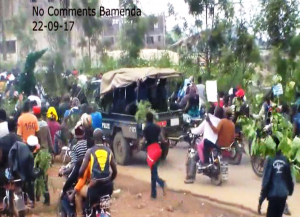 CNA- So do you think these core values have been taken away from the two English speaking regions of Cameroon?
Ntumfor Barrister NICO Halle:  I do not know why you are limiting the core values only to the two English speaking regions. I have made a general statement and this applies to all nations in the world. Take away those core values and peace will be compromised and so that is the kind of peace that I am crusading. That for it to be sustainable and lasting, those values must be there and I insist and underline, MUST be there. And that is why when I go around preaching peace, I tell those who thrive in violence, in war, conflict, blackmail, witch-hunting, back stabbing that these are the set back s of peace, they are devilish ingredients that destroys.
When you are a corrupt official, when you loot what is given you to manage, you threaten peace; you compromise peace because the people who were to benefit from what you are managing are deprived from their rights. They might not speak but they are boiling and when they finally speak, it might be volatile, it might be violent. That is why I have been crusading for peace because it is the most valuable asset we have.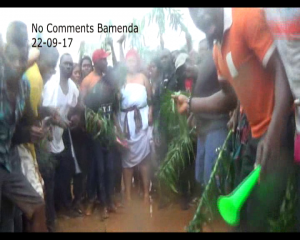 CNA- Is that why you went to the two regions-
Ntumfor Barrister NICO Halle:  You asked me why I went to Bamenda and other areas, as a peace crusader. You know from February I have been on the field. I have been trying to see how we can find a solution to the most excruciating, disturbing trouble in which we find ourselves in , caused by the Anglophone crisis which stems from the fact that Common Law Lawyers rightly were asking for a better administration of justice for the nation and that Common Law should not be Francophonized, eroded or diluted. So what happened? you know what happened!
It was unfortunate, rather than listening to them, some of them were roughly handled, some tear gassed, their gowns and wigs seized. They were marching according to the constitution of the Republic and the forces of law were there to instead guide them and protect properties from hooligans. Of course even those in the North West were tear gassed and they retaliated to an uncontrollable situation
I did my best to preach peace but again, peace does not exist in a vacuum. While that was happening the memo was out and it was a genuine request. You had the law which for more than 20 years existed only in French. So I went up to Yaoundé and met the Minister for Justice and he ordered that the translation be done but they were other grievances which were not attended to immediately.
It is however important to say that the Head of State gave firm instructions that certain measures be implemented not only for the Lawyers but also for the Teachers who were also asking for an undiluted system of education.
So all of these happened because people who were supposed to do things did not and they got stagnated.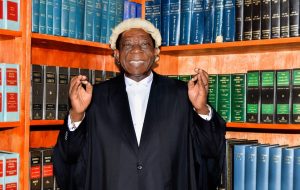 CNA- At some points you went down on your knees begging the Head of State to grant amnesty to all detained…
Ntumfor Barrister NICO Halle:  Yes in February, the polarized and politicized nature of the event, I saw that it was necessary for us to be honest, that's why I said the Head of State was not been fed with correct information on the situation because if he were, he would have assumed his responsibility as father of the Nation. I might be wrong, I might be right. And so, you will agree with me that from February I said it loud, I was very vocal on that. Let the Head of State grant general amnesty to all those who were arrested within the context of the Anglophone crisis, because the arrest was not proper, it was not founded.
And that amnesty which he partially did in August should be extended to those leaders who went out of the country on self exile.
CNA- Those people are now tagged today as Secessionists, are you saying the President should also 'forgive' them?
Ntumfor Barrister NICO Halle:  Well I think, for me I want to say with the measure that I prescribed; it should be extended to those who have exiled themselves, those who are still detained and those who have gone underground. And then as father of the Nation, he should address the nation in a very unique way, fatherly way, and soft tone. He is better placed to know exactly what I mean. I have been pleading; you don't give the Head of State instructions, you plead with him. That is what I have been doing. You can ask a million times, he has the prerogative and discretion.
I will also recommend that he creates a Justice, Truth and Reconciliation Commission made up of people of responsibility, dignity and honor. Proven probity, whose Commission will constitute platform for dialogue. What you call an inclusive dialogue where all parties are represented by people of probity, dignity and honor, not people who want to make financial, political gain or capital gains. Cameroon has those people around but you see I have called no names and I will not insult before, during and after. I will not use any of such words as traitors, blackmail and sellers because in a democracy it is good to have dissenting voices. Once that platform is put in place, it will diffuse the tension
CNA-Should the platform include those who are on exile?
Ntumfor Barrister NICO Halle:  Of course, I said it should be inclusive, it must be objective and impartial, if you don't include them, they will continue to give you sleepless nights. They should come because this country belongs to all of us, they are part of Cameroon. Each individual of the 22-23 million has a say in this country. If we go by Jean Jacques Rousseau, the people always have a say and they have the sovereignty and thy confer on you either as Prime Minister or Head of State, so if they are not there you will not be there.
Once that platform exists, authorities should order the immediate reconnection of internet that was shut down. In fact the people have been suffering because it has caused the business of these regions to down from 70-80 percent.
At the same time when the tension drops, you demilitarized the regions because not only it is expensive for the nation; people are also frightened by their presence.
Unfortunately many people have made much gain from this crisis both financial and political capital; and want it to continue, that is 'blood' money. We should be honest that we do not make money on people's blood, it can never be sweet. And so this is what I am saying, we should not hijack this crisis for positioning ourselves, we don't need it.
CNA- So what did you tell the people when you met them?
Ntumfor Barrister NICO Halle:  When I started this trip, I want to say it was a trip that I have initiated myself because I have done hundredths  of other trips in the past wherever I want to preach peace, because peace is part of my mind, my soul, part of my flesh.
I said now you are going to tell the people do not burn, destroy nor kill but what are you going to tell them in return that you are doing at the level of the powers that be, I said I will tell them exactly those measures that I have proposed to government for peace to return.
So when I decided, I said let me go back to the North West and I went and met all authorities including administrative, Security, Civil and Politicians and religious; I met the Governor of North West region Adolphe LELE L'Afrique, General Agha Robinson of the Military, Regional Delegate for National Security, Chief of BMM in the North West, Commandant Operationelle, Commissaire Divisionaire, then spoke with the Senior Divisional Officer  for Mezam SONGA Pierre Rene on phone.
I met Teachers too, heads of Trade Unions , AFU Stephen of PEATTU, Tame Valentine of TAC, then I met lawyers, representative of the Battonier , Barrister Henry Kemende Gamsey and my representative, Barrister Ngala , then of course I met civilians in some villages and preached peace.
I also met prominent politicians in the region and discussed with them, Ni John FRU Ndi was not around; he was in the village because they had an occasion which had to do with their Fon. I had to meet with them and we discussed and agreed that despite what is happening, we need peace and I also said we need restraint and respect for human rights, you don't need to break but dialogue.
I also met Bonchong Alhadji Bako Lawal another strong Politician and we both agreed on restraint and respect of the laws of the country. Also, I  met with another Politician and Educationist , Dr Nick Ngwanyam, we discussed extensively. I also met the Government Delegate to the Bamenda City Council Vincent NDUMU, though late in the night because he was not around, I also met some Fons. Not leaving out Journalists, we met and discussed on the burning issues and they recounted their reporting experiences.
CNA-Discussion held with these persons, was it fruitful?
Ntumfor Barrister NICO Halle:  I think that the message went through, because everybody appreciated the initiative, no body rejected the message, it has been widely appreciated and I think when I wrapped up my 11 days in the North West I gave thanks to God, glory goes to God and not me.
Nobody sent me, I sponsored myself, and nobody has given me one penny. I have spent in peace crusading in this Nation. I am not a politician and not looking for any post. You don't need to be a politician because the way I see some people practice politics it doesn't encourage me at all. Politics is not bad,  but the way some people practice,  it doesn't encourage people like me to venture into it. I think if you were to ask what my party is I will tell you Peace, Work, Fatherland, which is the motto of our nation.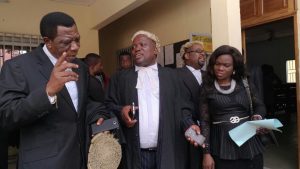 CNA-Now after your 11 days in the North West region, you went to somewhere in the South West region considered dreaded at the time, tell us how was the experience like?
Ntumfor Barrister NICO Halle:  Before I left for Douala, I had that in perspective, so on the last day I decided to go to Mamfe, I could not have wrapped up my mission without going to where there is killing of civilians and military. So I decided to go but many people advised me against going, that I might be killed, I told them that well, if I don't die now, I will die eventually, if I die ok no problem! if not thank God. So I left North West and went to Manyu.
I met the SDO who provided me a Police Commissioner in civil attire; it was not to guard me but to guide me through. We discussed and all agreed that there should be restraint, rule of law, and respect for human rights. We went to the area where they shot some gendarmes, one of the dreaded areas and we discussed that killings must stop on both sides.
I extended my condolences not only for the military, also for civilians. From there my high Range Lexus picked a nail on a Sunday but I struggled and got someone to repair. In the meantime, as we stood we met the Commissioner for Public Security, we went to his office and repeated same thing. We went to the army camp where the army General was standing with his elements, General Melingui, bilingual and very welcoming. At all these stops, we conducted prayers.
I also met civilians as I was leaving Mamfe after we had gone to the Paramount Chief, he was not there, then the Mayor too busy after being occupied with funeral the mother. I spent five hours there and the people were very happy.
I also went to Meme division in Kumba where I met the Government Delegate, Victor Nkele NGOH, who was so happy. You know they never knew I was coming because I made no radio announcement, when you make your moves known, they are spoilers around. I also met with civilians while in Kumba and we discussed extensively. I equally met heads of the Gendamerie, the Police and the Army and we discuss restraint and prayed that God should take control of the situation.
From Meme I went to Fako Division and the first place I went to was the Marine Corps where I met the Colonel who received me so well and we had same message, from there I went to the Legion Commander and something happened while I was there, news came that they had shot four Gendarmes in Mamfe, I fell bad, just like I felt bad when some civilians were killed three days before.
I met the Moderator of PCC, Rt. Rev Fonki Samuel. He received me and we both agreed on respect, restrain and that we should love each other and something happened which I felt bad, he expressed deep concern, lamenting on the degrading situation in his village, Akwaya.
At the Synod Office, I met the Synod Clerk and the Education Secretary and I suggested that if the church is the body of Christ and teachers are not receiving salaries, they can see how they can sustain them by reducing salaries of other workers.
I later met the Regional Delegate for National Security. I had earlier discussed with the Governor, Bernard Okalia Bilai who was in Yaounde for Governors Conference, he told me if I had any issues, I should let him know. While in Buea I had a telephone chat with the SDO for Fako , Emmanuel Ledoux, our discussion was enriching and assuring.
CNA- Today, can you say it is mission accomplished in your peace journey, as far as crusading for peace is concerned within the context of this crisis?
Ntumfor Barrister NICO Halle:   I will not say so nor take credits, I thank but God who only uses me to accomplish something. I am satisfied that I made that trip but as to whether peace will return, only time will tell, it is premature now, you know when you plant peace it takes time for it to grow.
I am calling on all and sundry to be a peace crusader, but again for peace to exist; those core values I mentioned earlier must be respected. I don't want to be jumpy, as time goes on you will know whether it was great.
I know people have appreciated but only God has the final say. While I was talking peace I was also talking love, patriotism, respect of rule of law. If you love, you cannot kill, you cannot burn; when there is love, there is justice and when there is justice, there is peace and when there is peace, there is equity.
CNA-Thank you for granting us this interview
Ntumfor Barrister NICO Halle:  Thank you and my God bless your news agency, its readers and their families this coming year.
I will say we should not ask what our country has done for us, but what we have done for your country. I think if we move in the way of KF Kennedy things will be better tomorrow.
Merry Christmas in arrears and Happy New Year to all Cameroonians both at home and abroad, hoping that this 2018 will be better year than 2017 and will come with lots of laughter, sunshine and  happiness. God bless you all.
Interviewed by NFOR Hanson NCHANJI
If everyone who reads our reporting, who likes it, helps fund it, our future would be much more secure. For as little as £1, you can support Cameroon News Agency on mobile money or call the number for details +237 679 700 696 – and it only takes a minute. Thank you.