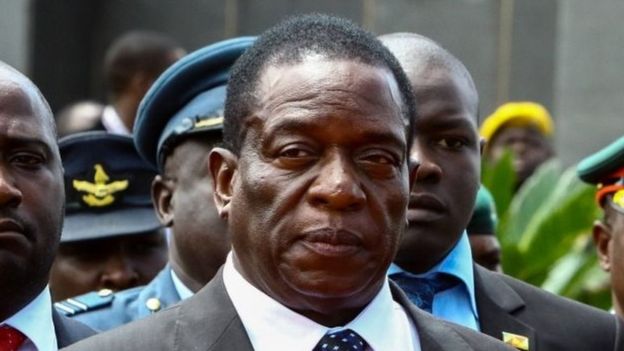 Zimbabwe's former vice-president, whose sacking sparked events leading to the shock resignation of long-time leader Robert Mugabe, will be sworn in as the new president on Friday, state TV says.
Emmerson Mnangagwa, who fled to South Africa two weeks ago, had arrived back in the country, it added.
His dismissal led the ruling party and the military to intervene and force an end to Mr Mugabe's 37-year long rule.
The news sparked wild celebrations across the country late into the night.
The announcement that the 93-year-old president was stepping down came in the form of a letter read out in parliament on Wednesday, abruptly halting impeachment proceedings against him.
In it, Mr Mugabe said he was resigning to allow a smooth and peaceful transfer of power, and that his decision was voluntary.
Mr Mnangagwa's firing by Robert Mugabe two weeks ago triggered an unprecedented political crisis in the country.
It had been seen by many as an attempt to clear the way for Grace Mugabe to succeed her husband as leader and riled the military leadership, which stepped in and put Mr Mugabe under house arrest.
Under the constitution, the role of successor would normally go to a serving vice-president, and one still remains in post – Phelekezela Mphoko.
However, Mr Mphoko – a key ally of Grace Mugabe – has just been fired by Zanu-PF and is not believed to be in the country. In his absence, the party has nominated Mr Mnangagwa, the speaker of parliament confirmed.
BBC News