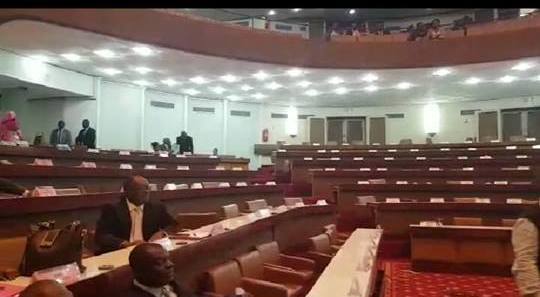 By Nfor Hanson NCHANJI
Yaoundé, Cameroon-Thursday November 23, 2017-9:10 PM Local Time (Cameroon News Agency) Members of Parliament of the Cameroon Peoples Democratic Movement Political party, CPDM, have walked out of a plenary session holding at the Glass House in Yaoundé Thursday November 23 after opposition Social Democratic Front MPs demanded the Anglophone crisis rocking the two English speaking regions be included on the agenda.
It was a dramatic scene at the National Assembly as SDF members of Parliament stormed the premises for the first time in over one week since the budgetary session started, they held peace plants chanting provocative songs and calling the name of President Paul Biya, saying "Na how many people Paul Biya go kill oooo, you go kill we tire…" their main aim was to impose the Anglophone crisis on the agenda but when Parliamentary group leader Hon. Joseph Banadzem stood up and told House Speaker to do so, the latter refused.
This refusal sparked tension as the MPs of Cameroons main opposition political party stood up in anger vowing to disrupt all sessions if their demands are not met. As tension increased, all CPDM MPs walked out of the Glass House, leaving only the House Speaker Cavaye YEGUIE Djibril who horridly read out three bills and said all adopted. SDF MPs described the move by their CPDM colleagues as cowardice and rejection of the Anglophone crisis. Members of government and other minor political party representatives left the hemicycle
The Peoples representatives who have been under fire from their electorates in the two English speaking regions pressed on, shouting, chanting and jubilating victory vowing to continue same exercise Friday.
After the showdown, Labor Minister Gregoire Owona called the SDF MPs for a meeting to broker peace.
Cavaye Had Been Warned
SDF members of Parliamentary Group leader on behalf of his colleagues sent a strong worded letter to House Speaker, Wednesday November 22, 2017 demanding that the issue be raised during session or they will know no peace.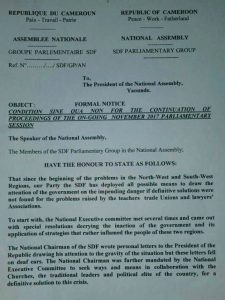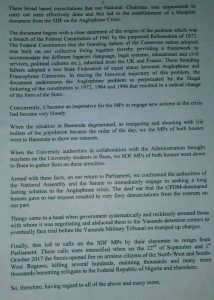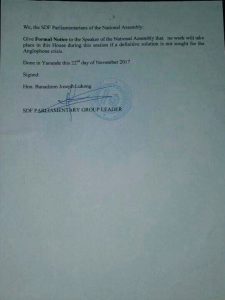 Letter Addressed to Cavaye Yehuie Djibril 
In the letter to the House Speaker, they recounted how the Anglophone crisis has greatly affected the people of the two English speaking regions and despite efforts made by the Party including mandating its Chairman to use all measures for peace to reign, the Head of State has remained silent on the matter.
To SDF MPs it is time to solve the issue or never.
If everyone who reads our reporting, who likes it, helps fund it, our future would be much more secure. For as little as £1, you can support Cameroon News Agency on mobile money or call the number for details +237 679 700 696 – and it only takes a minute. Thank you.