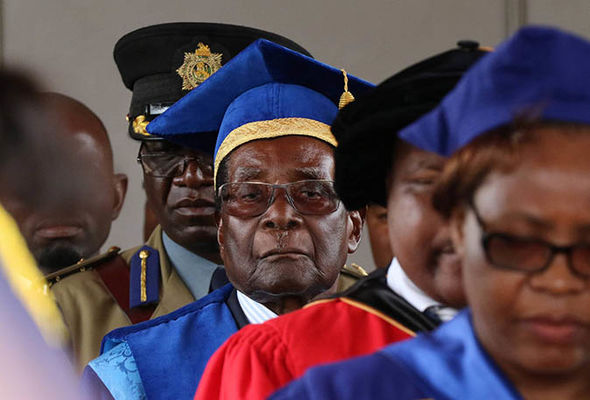 ROBERT Mugabe was seen at a graduation ceremony in Harare today but the army could be about throw him out if he refuses to quit. Here is the latest news and live updates.
Mugabe attended the graduation ceremony after negotiating with the military at State House yesterday
Military forces retain control of Zimbabwe and allowed Mugabe out of house arrest for the ceremony 
Zanu-PF officials are making plans to dismiss and impeach Mugabe if he refuses stand down
The army carried out coup on Tuesday night and said it was a "bloodless takeover"  All 10 of Zanu-PF's provincial parties have called on President Mugabe to resign amid the political turmoil in Zimbabwe.

Zimbabwe newspaper Newsday reported that a vote of no confidence was passed by all 10 parties.

A UK-based member of the party also said that each branch has agreed to direct the party's Central Committee to renounce Mugabe's leadership.

According to Nick Mangwana, the parties have agreed to back the ousted Vice President Emmerson Mnangagwa as the country's next leader.

Temba Mliswa, who is the only independent MP in Zimbabwe, said: "You live by the sword, you die by the sword.

"RGM [Robert Mugabe] has been notorious for expelling people from ZANU PF through provincial Votes of No Confidence.

"Masvingo and Manicaland have passed the same. The March tomorrow must be the final nail."

Mr Mliswa's comments come after a number of Zanu-PF provinces passed votes of no confidence in Mugabe.

3.26pm: Zanu-PF provinces pass vote of no confidence in Mugabe

All ten provinces held by Robert Mugabe's Zanu-PF party have passed a vote of no confidence in the president, according to NewsDay.co.zw.

The development will be a huge blow to Mugabe, who has been ordered to stand down as leader by Sunday.

3.04pm: US calls for 'a quick return to civilian rule'

United States Secretary of State Rex Tillerson has urged "a quick return to civilian rule" in Zimbabwe and called events there "a concern."

"Zimbabwe has an opportunity to set itself on a new path, one that must include democratic elections and respect for human rights," Mr Tillerson told foreign ministers from the African continent ahead of a meeting in Washington.
1.04am: Botswana President says Mugabe give up power 
Mugabe should end his attempts to remain in office after the military seized power this week as he has no regional diplomatic support to stay in power, Botswana President Ian Khama said.
The military intervention, which political sources say could pave the way to a national unity government after 37 years of Mugabe rule, also presented "an opportunity to put Zimbabwe on a path to peace and prosperity", Khama told Reuters.
"I don't think anyone should be President for that amount of time. We are Presidents, we are not monarchs. It's just common sense," Khama added.
12.50pm: Rally to be held in Zimbabwe tomorrow
An poster for the anti-Mugabe rally in Harare tomorrow calls on Zimbabwe to rise up and "demand a leadership that will relieve us of the suffering we have endured for too long."
Zimbabwean newspaper publisher Trevor Ncube said: "Zimbabweans are preparing to take to streets tomorrow to express themselves over the current political stand-off between Mugabe and the military."
12.31am: The leader of Zimbabwe's influential war veterans said Robert Mugabe would not be allowed to resist the military and remain in power.
Chris Mutsvangwa added that the veterans saluted Zimbabwe's military for seizing power earlier in the week.
EXPRESS