By MEFO TAKAMBOU
Yaoundé, Cameroon-Saturday December 23, 2017- 2: 30 PM Local Time (Cameroon News Agency) After spending 877 days at the Kondegui prison in Cameroons political capital,  Yaoundé, the correspondent with Houssa Service at RFI was set free on the night of December 22, 2017.
The Yaoundé military court on December 21st dropped the charges of laundering the proceeds of terrorist act that landed him a 10 year jail term in 2016.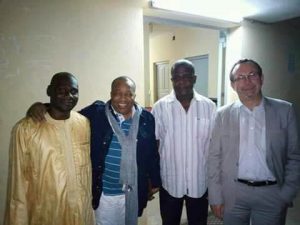 Ahmed Abba Extreme left posing with Lawyers
The court however sentenced Ahmed Abba for 24 months for non-denunciation which automatically made him a freeman after his 29 months stay in prison.
As he left prison accompanied by his team of lawyers including Barrister Charles Tchoungang, he recognized the efforts of his media house, his colleagues and international organizations to secure his release.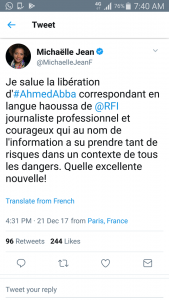 A tweet from Francophonie SG
A support committee of 35 NGOs, Reporters Without Borders RSF, CPJ and friends had maintained that he was innocent.
Ahmed Abba was arrested on July 30 in Maroua while covering Boko Haram activities.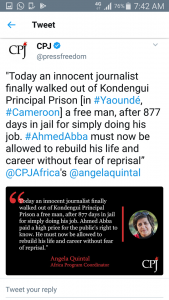 CPJ Reacts
On April 24, Abba was sentenced to ten years in prison and a fine of 57 million CFA francs (85,000 euros) on charges of failing to report terrorist acts to the authorities and laundering the proceeds of a terrorist act. His only crime was to have covered the terrorist group Boko Haram's activities in Cameroon's Far North.
La Francophonie and  CPJ have all welcome the move.
If everyone who reads our reporting, who likes it, helps fund it, our future would be much more secure. For as little as £1, you can support Cameroon News Agency on mobile money or call the number for details +237 679 700 696 – and it only takes a minute. Thank you.