Front page
Human Interest
We Arrested An Innocent Man And Demanded 300, 000 FCFA As Bail, A Kumba Gendarme Confesses to CNA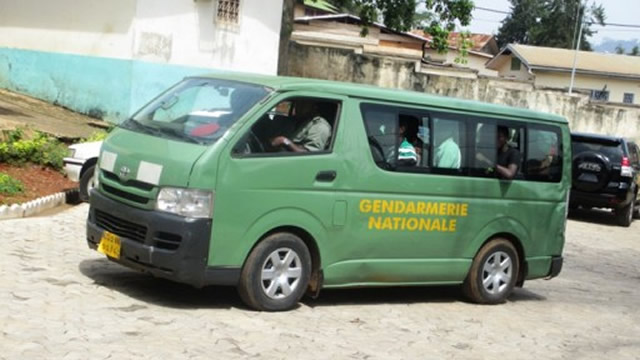 A Gendarme Officer in Kumba has told Cameroon News Agency, CNA, that they are in keeping of the Chairman of an SDF Ward in Kumba 2, Fortecha Francis Nyiawung, for allegedly helping Ambazonia fighters which turned out to be false accusations. Since his arrest on March 29, 2019, the Brigade located along Buea Road in Kumba, is demanding the sum for 300, 000 FCFA from the family as bail.
Asked why and how they arrested Mr Fortecha, the Officer who asked not to be named said, they received a call from an informant in who works at the Kumba 2 Council (name withheld) that the accused was providing Ambazonia separatist fighters with medications during operations.
Is the man a medical Doctor? CNA's Publisher Nfor Hanson Nchanji, asked. "No no no" was the reply.
So how and why did you guys arrest him?
The Officer narrated that when they received that call that day on Friday March 29, 2019 from the said informant, they set for the man's residence in Kossala 2 around 11am but did not find the man in the house. They only found the man's wife, another lady and four children. They searched everywhere and could not find him. One of his colleagues took away the sum of 30,000 FCFA from one of the six rooms.

Detained Chairman of an SDF Ward in Kumba 2, Fortecha Francis Nyiawung
One of his colleagues gave his phone to the Mrs Fortecha, asking her to call the husband and tell him that she was very sick. Within 30 minutes, the SDF Ward Chairman in Kumba 2, came home to take care of his wife, not knowing that it was a trap. He was taken away including his phone.
CNA's Nfor Hanson Nchanji became curious and wanted to find out what happened to the man and why are they demanding a whooping sum of 300, 000 FCFA. The Gendarme Officer replied, "Honestly, I can assure you, if I'm giving you this information today, it is because I am conscious of the fact that this man is innocent. When we took him away, we discovered from his phone that he was innocent. But we had asked the family to provide us with 25, 000FCFA to go to MTN and verify if truly he has been communicating with those guys but that is not true. We checked his phone and informed the family that nothing has been found it"
So why not release him?
" You know things are not done like that, the company Commander asked the family to pay the sum of 800, 000 FCFA from the beginning for his release but after our investigations, he said they should pay 300, 000FCFA for the bail of their father and husband. But as we speak the Company Commander  who ordered for the arrest, Col. Mbarga Benjamin has been replaced and a new man, Col. Atangana who came just last week"
CNA was also told that the accused is very sick and needed medical attention, but the family has been told to pay the bail first. "They wanted to pay this week but the person to sign was not around."
Several attempts have been made by CNA to meet his family or the lawyer who is handling, in futility. It is not certain if Fortecha will be released this coming week or not. Our Gendarme source said, he was personally against the man's continuous detention, reasons why he broke the silence.
Gendarmerie Brigades in Kumba, Meme Division in the South West region, just like other Brigades and Police Stations across the restive regions, have been making money from innocent civilians through random arrests on streets and in houses. On Saturday April 13, 2019, over 100 persons with or without identity cards in Kosala, Metta and Fiango quarters in Kumba, were all bundled and locked up. Gendarmes were since Saturday morning squeezing money from the throats of poor parents and guardians.