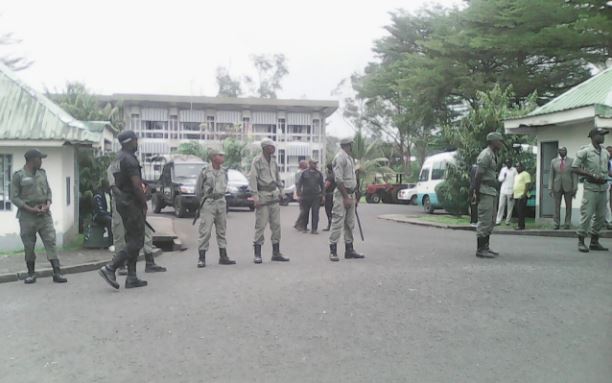 By NFOR Hanson NCHANJI
DOUALA,Cameroon-Thursday August 16, 2018-12:14 PM Local Time(Cameroon News Agency) The authenticity of the document announcing the strike action cannot be verified,  but it is supposedly from the University of Buea Student's Union, UBSU, a body which was tactically wiped out by former Vice Chancellor. In the letter to Professor Horace manga, they are demanding among others rescheduling of re-sit examinations.
In the letter addressed to the Vice Chancellor, the students are denouncing the time allocated to them during re-sit examinations(1 hr 30 min), usually, they argued it is more than three hours.
They are also denouncing deadline for course enrollment, transit problems among others. They expressed frustration over these practices and called on the Vice Chancellor to find possible solutions or they will go on a rampage this week.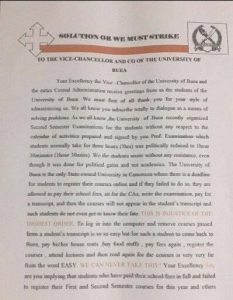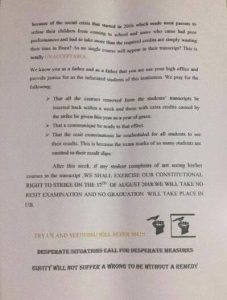 The letter reads that the students want the Vice Chancellor to reschedule the resit examinations which are expected to start tomorrow. When the exams are postponed, the school should find out means to insert course into results slip of students.
That the school should make sure that results of students are inserted in their transcripts when and that the Vice Chancellor should issue a communique to this effect, without which they will strike this Friday August 17, 2018.
The letter though patterning to UBSU, however remains anonymous with no signature at the end. The last strike action in UB orchestrated in 2016, under Doctor Nalova Lyonga was peaceful but the after effects were devastating as police broke into hotels, raping , maiming, torturing and looting from students.
The entire UB Junction has been invaded by Soldiers, probably anticipating tomorrow.
CNA has contacted a senior Administrator at the Central Administrative building of the University of Buea, who is yet to give the version of the school.