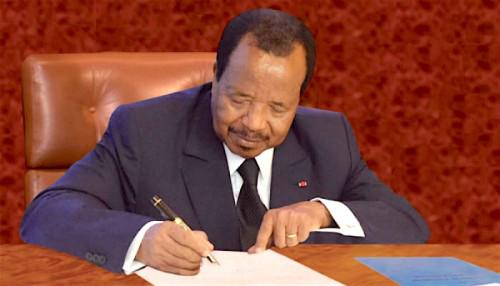 Yaounde,Cameroon-July 7,2017 -7:45 am Local Time(Cameroon News Agency) The man considered by many of his victims as 'terrorist', grade 4 Magistrate Pascal Magnaguemabe formerly working at the Mfoundi High Court has been dismissed from his function and title of Magistracy stripped-off by President Paul Biya.
He was dismissed for extorting huge assets which according to findings does not belong to him. The long standing case finally saw end of the tunnel with the ejection of the Baobab,the man who has sent over half a dozen former regime barons to prison.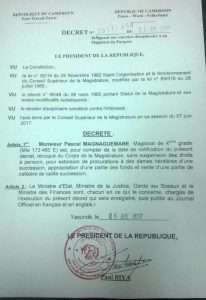 Presidential Decree
His office was called "Guantanamo" and those involved in the Albatross and the BBJ plane affairs have entered the Guantanamo and never returned free.
Former Territorial administration minister Marafa Ahmidou Yaya before his arrest,had visited the now former magistrate and was taken straight to Kondengui after the visit. He equally sent barons like former PM Inoni,Marafa,Titus Edzoa, Atangana Mebara among others to jail.
The decision to dismiss him was on the table during the recent meeting grouping members of the Higher Judicial Council.
Speculations are rife that he could be sent to jail.