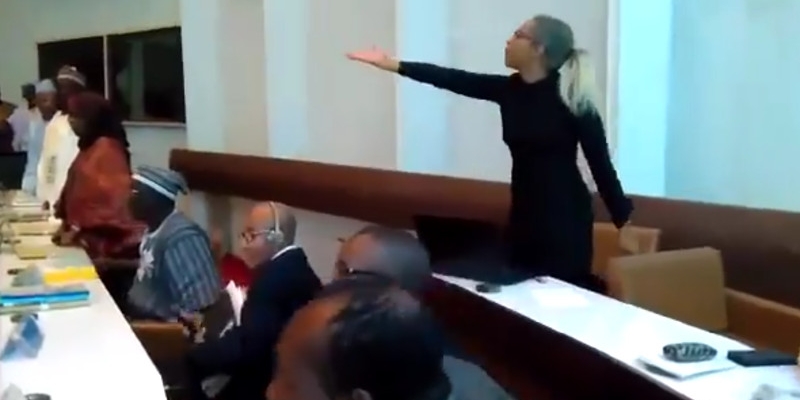 By NFOR Hanson NCHANJI
Yaounde, Cameroon-Saturday December 9, 2017-12:15 PM Local Time (Cameroon News Agency) A projectile ( name tag) which hit Honorable Member of Parliament from Menchum division in the North West region, Hon Walang Richard was never meant for him, a reliable source has told Cameroon News Agency. The object was shot by Union Democratique Du Cameroun, UDC MP Hon Tomaino Ndam Njoya Friday  December 8, 2017 at the Glass House, as SDF MPs continued to press for the inclusion of Anglophone crisis on the agenda.
Sources say the parliament was about concluding and adopting the finance budget which is the last segment.. ."so the SDF Members of Parliament moved to the front to make their voices heard that the anglophone issue be brought to the table." Our source disclosed.
CNA can confirm after watching the video that Hon Tomaino Ndam Njoya  expressed signs of remorse towards her wrong target as if to say "I am sorry" but was still showing signs of anger over what was going on.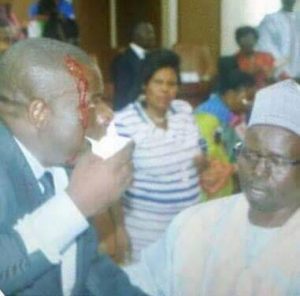 Other MPs helping Hon Walang after the hit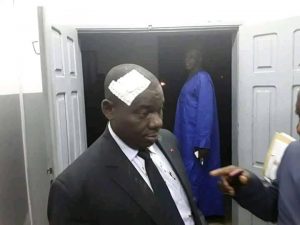 Hon Walang after First Aid
CNA cannot however independently confirm reports that she shot the name tags on the CPDM Parliamentarians who were seated and not reacting, because another source says she was angry the brawl had disrupted her question she was planning to ask.
CNA can however confirm that Hon. Walang Richard did not oppose  the proposal by Social Democratic Front, SDF MPs for the Anglophone crisis to be examined neither did he even speak when the confusion started.
See Video 
(Picture: Screen Capture)
If everyone who reads our reporting, who likes it, helps fund it, our future would be much more secure. For as little as £1, you can support Cameroon News Agency on mobile money or call the number for details +237 679 700 696 – and it only takes a minute. Thank you.