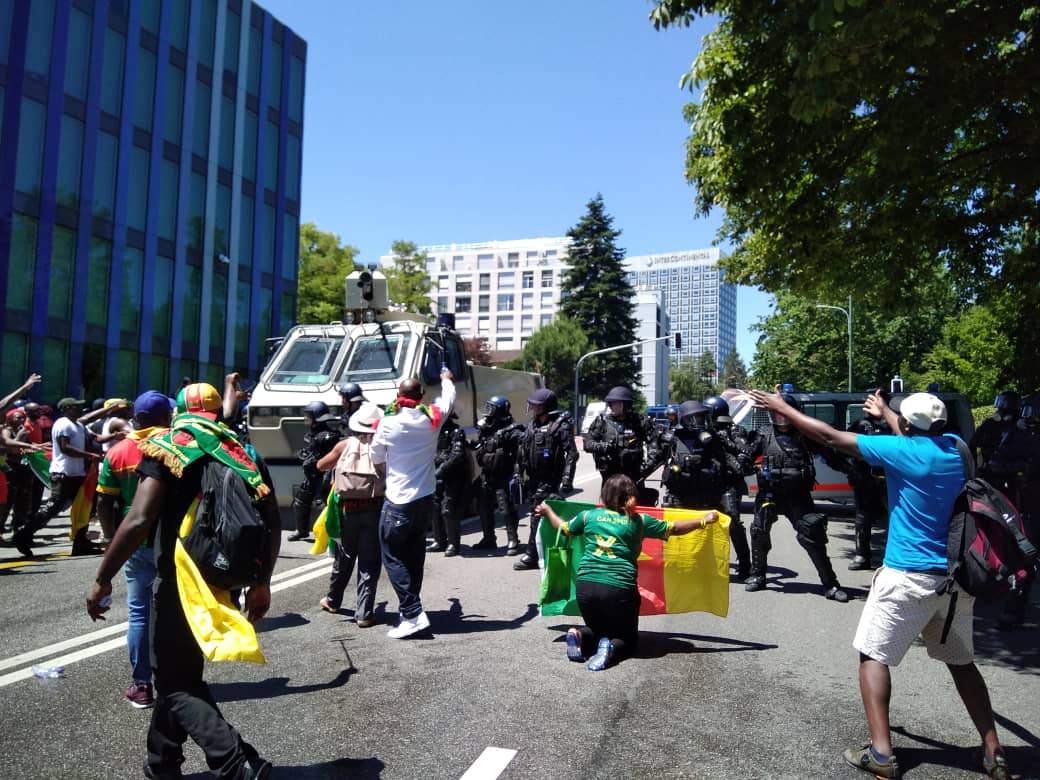 (Geneva Saturday, June 29, 2019) Police in the Geneva Canton has used force to repel a group of anti-Biya protesters who crossed the margin to the Intercontinental hotel, where Cameroon's head of state was lodging.
Violent scenes were seen around the Broken Chair at the European headquarters of the United Nations in Geneva.
"We came here to put Geneva into a total battle ground" Emmanuel Kemta, one of the leaders told CNA.
The battleground was however not extended to the Intercontinental hotel as Swiss Police used tear gas and a water cannon to prevent the protesters from reaching their destination.
Cameroon Protesters unable to cross Police barrier
Police spokesman Silvain Guillaume-Gentil told Swiss info that officers fired tear gas after a group of protesters attempted to break through police lines to reach the hotel. He said several protesters were affected by the chemicals but nobody was injured or arrested.
Geneva police had told AFP it expected a "significant" mobilisation which would not be allowed to get within 500 metres of the hotel. The building was also protected on Saturday by members of the Biya's own security service.  Swiss info reported.
Face-to-face with Geneva Police
Earlier before the clashes, anti- Biya protesters grouped under the Battalion Anti-Sardinards beat up pro-Biya supporters around the Airport bus stop at the Nations.
The Cameroon government has condemned Saturday's protest calling on all Cameroonians to protect the image of the country wherever they are.
The opposition group which recognizes Maurice Kamto as President has given Paul Biya three day to leave the hotel or face another protest.