Front page
Politics
Statement By Barrister Harmony Bobga To Us Congress On Anglophone Crisis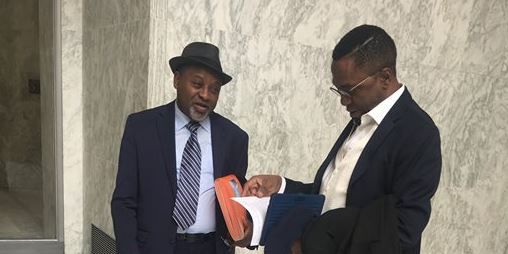 Washington DC, USA-Wednesday June 27, 2018-7:36 PM Local Time (Cameroon News Agency) The exiled President of North West Lawyers Association, Barrister Bobga Harmony has urged the US to mobilize its international partners for peace and human security, an "Exclusive Referendum For Southern Cameroons" in correction of the missed implementation of United Nations Resolution 1608 ,XV.
He made the proposal during hearings at the US Congress on Anglophone Crisis two days back. Barrister Harmony, who is one of the few who escaped arrest last January 17, 2017 in the heart of the Anglophone crisis, equally said the ongoing crisis is a cultural genocide which unfortunately is going almost unnoticed as international community is adamant to intervene.
Read on:
Salutation And Introduction
Good day Sirs and thank you for taking interest in the dire situation in Cameroon in general. Specifically, you may wish to focus on the root cause of the current problem i.e. The Question of Right to Self-Determination of the political grouping called "Anglophone Cameroon" which resonates appositely in legal history with the expression: "Southern Cameroons".
Statement Of Problem:
A cultural genocide that has been smoldering for 57 years recently took its full amplitude from November 2016 growing rapidly like uterine cancer and is threatening to beat the Rwandan Record yet the International Community has turned a blind eye to or at best made a hard choice between humanity and the greatest deposits of natural resource wealth in the Gulf of Guinea, turning the said wealth to be the curse bearing genocidal risk on the peoples of Southern Cameroons. The United States Administration in spite of its commitment to protect human rights has reneged so far in its philosophy and policy of international protection of humanity wherever it is threatened in the World.
Solution Sought From United States Congress:
Decide on an immediate United States led humanitarian intervention in Southern Cameroons to stop the on-going genocide;
Call for an international Expert Group assessment of the scourge on life and property in Southern Cameroons for the last two years;
Propose and pursue a sustainable solution to the Southern Cameroons predicament in particular and the problems of illegal and bad governance from Yaoundé on the peoples of Southern Cameroons;
Propose to the United States Administration to mobilize its international Partners for peace and human Security, an "Exclusive Referendum For Southern Cameroons" in correction of the missed implementation of United Nations Resolution 1608 (XV);
Advice the United States Administration on the permission for establishment of a Southern Cameroons Peace Council in the United States as partners for Peace-building in the Gulf of Guinea.