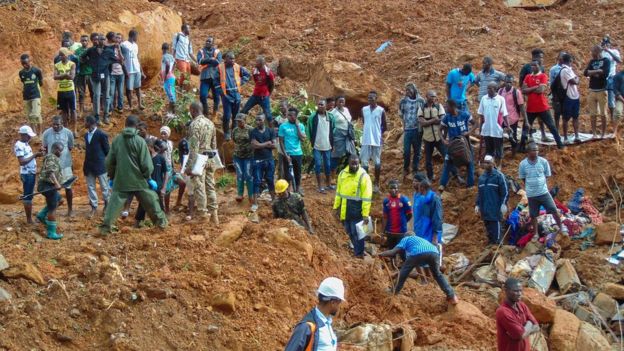 Sierra Leone needs "urgent support" now for thousands of people hit by mudslides and massive flooding in the capital, the country's president says.Ernest Bai Koroma said entire communities had been wiped out and that the "devastation was overwhelming us".
Close to 400 people have been killed and a mass burial of victims is planned to free up space in mortuaries.
Efforts to recover more people from the muddy rubble that swept through the Regent area are continuing.
The Red Cross said it was struggling to get equipment in to extricate bodies that were buried deep in the mud.
Homes in Freetown were engulfed after part of Sugar Loaf mountain collapsed following heavy rain early on Monday.
Many victims were still asleep in their beds when disaster struck.
It is feared the number of dead will rise further. Another 3,000 people are estimated to have lost their homes.
Ishmael Charles, a charity worker for the Healey Relief Foundation and Caritas Freetown, told the BBC words could not do justice to the scale of the tragedy.
"You will see a huge number of people crying with those who have lost their family members," he said.
"It's very difficult to paint what the reality looks like, because it's more scary and very sad and disastrous than anyone can be able to describe."
Curled From BBC