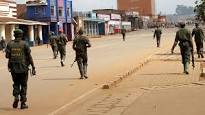 Armed men have attacked and killed 11 persons including Eight guards at the central prison of Kangbayi in DR Congo's restive east, an official said.
"The Kangwayi prison in Beni was attacked at 3:30 pm by assailants whose identity is not yet known," Julien Paluku, governor of North Kivu province, told reporters on Sunday.
"In the exchange of fire between security forces and the attackers, authorities have [counted] 11 dead, including eight members of the security forces," AFP news agency quoted Paluku as saying.
"For the moment, out of 966 prisoners, there are only 30 left in the prison."
The Beni area and the neighbouring town of Butembo had been put under curfew from 6:30 pm, according to Paluku.
"Only police officers and soldiers should be out from this time," he said.
With Additional reports from News Agencies