Front page
Politics
Prime Minister Dion Ngute Continues His Dialogue Mission In Bamenda, Says Secession Not On Agenda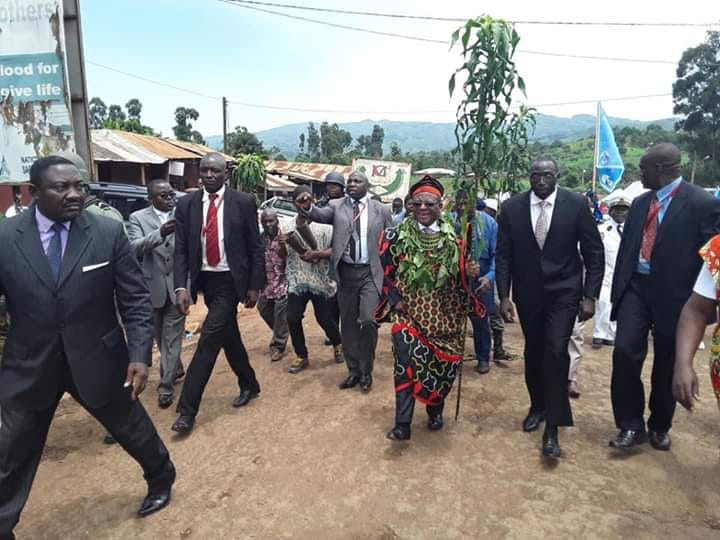 By Bernard Bantar
Expectations are high as consultations with Cameroon's Prime Minister, Joseph Dion Ngute resumed in Bamenda on Friday May 10, 2019 to address issues that can trigger peace in the restive North West and South West Regions which is prone to chaos as a result of the ongoing war.
The peace plant guest, Prime Minister Dion Ngute promised on Thursday that president Biya is now ready to dialogue but any subject on separation will not be welcomed on the negotiation table, he further expressed the President's worries to see a return to normalcy in the English-speaking regions.
Women protesting infront of Ayaba Hotel in Bamenda
The four days visit continues Friday with a meeting with stakeholders of the region. Ni john Fru Ndi National Chairman of the Social Democratic Front Party, SDF, will also take part in this meeting.
All eyes are on Chief Dr. Joseph Dion Ngute to see how far his peace plant can go. However, before degenerating into an arm conflict, the Anglophone population took to streets with the peace plants to decry military hostilities in the region; these landed many in jail and some were killed in the process.
Earlier on Friday, Cameroonians were shocked to receive the Prime Minister's tweet which reads:
"Good morning #Bamenda, I invite all peace-loving #Cameroonians to take part in the ongoing #dialogue. However, we must be careful not to propose solutions that may be more damaging to our country than the crisis. We are resuming discussions this morning. #Peace #Cameroon"
This message has left so many Cameroonians with distressed opinions still doubting the authenticity of the so-called ongoing dialogue when leaders of the Interim Government of Ambazonia and MRC militants are still being harboured in the Kondengui prison quarters.
The so called dialogue preached by Paul Biya is not going to include Secessionists nor Federalist, the PM is already engaged in the dialogue called by the President.
It should be noted that this visit marks the Prime Minister's first appearance in the restive North West region since his appointment.