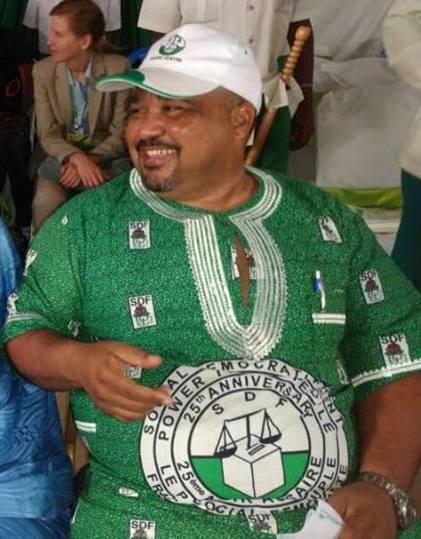 By NFOR Hanson NCHANJI on Special Coverage of SDF Convention in Bamenda.
Bamenda,Cameroon-Saturday February 24, 2018-9:35 AM Local Time (Cameroon News Agency) The Vice Chairman of Cameroons main opposition political party, the Social Democratic Front, SDF, Hon. Joshua Osih, has been voted as the party's candidate ahead of the 2018 Presidential election. He beat his rival Hon Simon Nchinda Fobi to becomes the party's only second Presidential candidate since it's creation in 1990.
The Congress Hall in North Wets region's capital , Bamenda vibrated with shouts of joy as the Electoral Commission pronounced the name of Hon Joshua Osih as the victor.
The National Vice Chairman who was reelected Friday, swept the votes in almost all the regions including the North West region where his challenger hails from. HE had a total of 1021 Votes against 134 to Hon Simon Nchinda Fobi, making a percentage of 88.39% against 11.61%, meanwhile 9 empty ballots were counted in the process.
The South West and the West regions had the largest votes with each giving Hon Osih 177.
Hon. Simon Nchinda Fobi did not win in any of the regions, his highest votes were 42 from the Centre region where Hon Osih grabbed 119.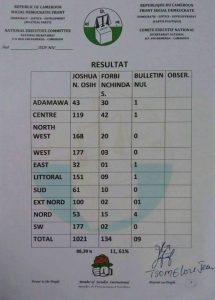 The victory of Hon Joshua Osih which had long been predicted means he will likely face Paul Biya in the 2018 Presidential elections, if the Octogenarian decides to stand as candidate.
Joshua Osih is being seen as the candidate for and of the youths. After making three unsuccessful outing against Paul Biya, SDF Chairman Ni John FRU NDI had been pressurized especially with his age, to let the young grow and Osih, his ever present National Vice Chairman is seen as the square peg in a square hole.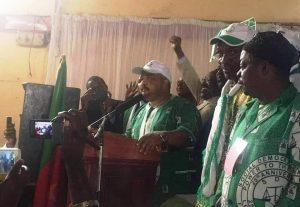 Acceptance speech of Hon Joshua Osih, SDF Presidential Candidate
While opening the SDF 9th Convention last Thursday February 22, 2018, Ni John FRU NDI announced his would not stand as candidate but said the new person to represent the party must be smarter than him and must tour Cameroon 28 times like he did during campaigns. To Mr FRU NDI, it is the only means to move closer to the electorates in trying to woo them.