Society
Police Launch Manhunt For Eight Suspected Anglophone Activists In Bamenda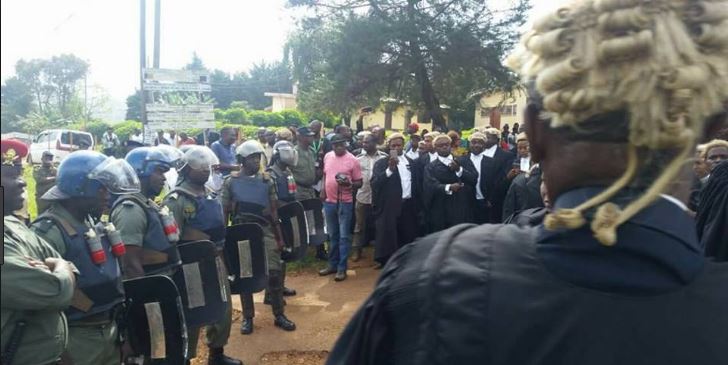 By Innocent Buh
BAMENDA,Cameroon-Tuesday July 10, 2018-1:26 PM Local Time (Cameroon News Agency) Security forces in Bamenda, North West region, have reportedly intensified a search for some eight Anglophone activists suspected to have taken active part in protests in the city which later turned bloody, human rights campaigners have said.
The eight missing youth were amongst dozen hunted for arrest in Anglophone Cameroon, after two separate strike actions staged on November 21, 2016 and December 8, 2016. They were targeted for arrest following days of protests against the use of French in courts and schools in English-speaking parts of Cameroon, which turned violent.
Cameroon's National Human Rights Commission had earlier raised concerns over the whereabouts of some of those arrested.
The protesters had staged a strike action in support of Common law Lawyers and Anglophone Teachers. They also expressed frustration with the poor road networks and limited water supply in the city, amongst others.
They had also prevented the ruling CPDM party from holding a unity rally on December 8, 2016. But their efforts met with police brutality as live bullets, tear gas and water cannons were used on them. Over half a dozen died but government sources counted just four deaths.
John Ekosso, a human right official told this reporter that while some of the protesters were detained at the Bamenda Central Prison, and the Buea production prison, others were airlifted to Yaounde by military helicopter and detained at the Kondengui Maximum Security Prison and the National Gendarmerie headquarters, SED.
One Febnchak Yukbuin Landry, 28 and brother, Febnchak Lacktim Julius, are among the eight missing Anglophone youth, family sources have disclosed. Others include Nkwain Philip, Ayuk Silas, Evans Ngong, Kemende Hanson and Alosius Kamsike.
The suspected activists were last seen in late 2016 and till date, their exact whereabouts remain unknown. Several rounds of investigations by The Guardian Post could not ascertain their exact location.It is not yet known if the activists have fled the country for fear of arrest and persecution.
The government of 85-year-old Paul Biya, it would be recalled, has since the start of the crisis in the two English-speaking regions of the country, launched a merciless crackdown on activists.
It should be recalled that in January 2017, the government of Cameroon, through the ministry of territorial administration and decentralization, banned activities of the Southern Cameroons National Council, SCNC, and the Cameroon Anglophone Civil Societies Consortium, CACSC, a group that began clamoring for the respect of the rights of Anglophones.
The order signed by the then minister of territorial administration said the purpose and activities of the SCNC were contrary to the constitution and capable of jeopardizing the security of the state, territorial integrity, national unity and integration.
---
First Published, The Guardian Post Daily