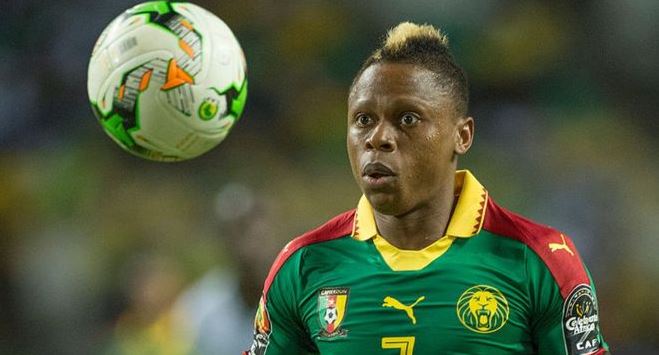 DOUALA,Cameroon-Wednesday July 11, 2018-1049 PM Local Time(Cameroon News Agency) Cameroon striker Clinton Njie says he is shocked by the approach and surprised by the content of a private correspondence intended for him, circulating on social media.
Clinton was reacting through a communiqué to condemn an accusation leveled against him by the Secretary General of the Normalization Committee of Cameroon Football Federation, Fecafoot.
A Fecafoot query signed by the scribe, Martin Etonge leaked a few days ago has created social media buzz.
In the leaked "private document" the Fecafoot SG wants Clinton Njie to explain why he brought in two girls into his hotel room on the eve of an international friendly between Cameroon and Burkina Faso on may 27, 2018 (B. Faso beat Cameroon 1-0. Clinton missed a penalty).
The letter further states that the two ladies caused an unfavorable atmosphere in the hotel.
In his outing Wednesday, Clinton says "my career and my honor are attacked. I will defend myself with the weapons of truth. I shared my room during the selection with Fai Collins. We separated from our supervisors at the end of this grouping without any knowledge or questioning about any incident. I really hope it's a misunderstanding or confusion."
The African champion says he will nonetheless comply with the clarification requested by the appropriate authorities.
Njie Clinton began defending the colors of Cameroon since 2015. He describes wearing the national team jersey as a privilege and honor, and a childhood dream come true.
In spite of the recent leaked Fecafoot "private document" Pappy, as he is affectionately called, has vowed to continue defending the colors of the nation with pride, dignity and honor, "as long as nature gives me the necessary strength and fortitude".
Meantime, the Cameroon football ruling body is still to make any official statement with regard to the leaked "private correspondent" or how it leaked. Many people have criticized the approach of the Federation. It is not clear whether Clinton Njie will take legal actions against the federation for defamation of character.