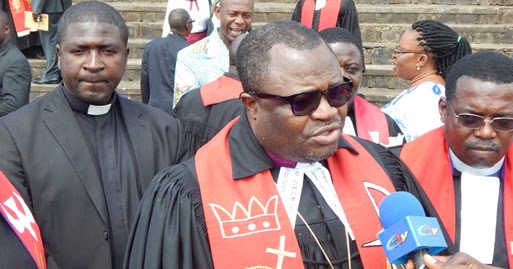 Douala, Cameroon-Sunday December 24,2017-10:30 AM Local Time (Cameroon News Agency) The Moderator of the Presbyterian Church in Cameroon,  Rt. Rev Fonki Samuel has called on Christians of the Church to embark on a three days retreat during which prayers will be intensified for peace to return especially in the two English speaking regions of Cameroon. 
In a general message sent to all congregations Sunday December 24, the Moderator said the critical situation of the Anglophone crisis cam only be solved if Christians embark on seriously prayers.
The three days retreat is expected to begin on Friday 29 December,2017.
This call comes one day after the Pastor of PCC Nkolbison in the Centre region Rev Ewala Jeremiah was found dead behind the church  building.
According to sources from the church, he had gone missing on December 19. Sources talk of gruesome murder. A minute of silence was observed in all PCC Parishes across Cameroon and abroad.