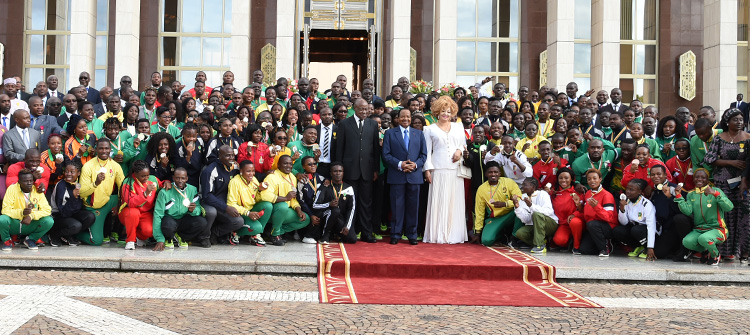 BY Nfor Hanson Nchanji-Douala, Cameroon- Saturday August 12, 2017-9:00 AM Local Time (Cameroon News Agency) The two games; one dirty and the other beautiful and interesting are in real sense not supposed to be together but events in Africa has proven that Presidents have often times taken advantage to flirt politics with football making them permanent bedmates for their political gains.
By declaring last Thursday that he will personally supervise construction works of structures to host the 2019 AFCON in Cameroon, President Paul Biya of Cameroon indirectly was confirming he will stand as candidates for the 2018 Presidential elections.
A political scientist, Professor Claude Abbe says there could have been no other way to announce his candidature and that it needed no magic to know that the elections come up one year to the event meaning President Paul Biya is not only announcing he will stand, he is also very sure of winning.
President Paul Biya was the last Cameroon authority to react on the readiness of the country to host the African football fiesta after the outburst of CAF President Ahmad Ahmad on Cameroons inability to host the event.
Just like Mobutu Sese Seko of former Zaire, now DR Congo and Nkwaneh Nkrumah of Ghana, Paul Biya knowing well how the declaration had united even his enemies towards him wasted no time to hit the nail on the coffin.
Mobutu Sese Seko who used football as the opium of the masses did that successfully when single handedly brought up the young club TP Mazembe which was formerly known as Engelbert , he built it into a symbol of national pride uniting even his enemies and maintaining his hegemony over Zaire.
Paul Biya's move is not far from that of Pan Africanist Nkrumah who also managed a football club Real Republicans, a club that belongs to the State but these clubs eventually fell when the politicians lost power.
But the case of President Paul Biya is different, he manages no club but acts very swiftly to use a sport event for his political gains or to water down rising tension.
The recent tour of 2017 AFCON winners, the Indomitable Lions of Cameroon especially in the two English speaking regions of Cameroon was interpreted as politically motivated at the time when the social climate was tense.
Photo: PRC.CM