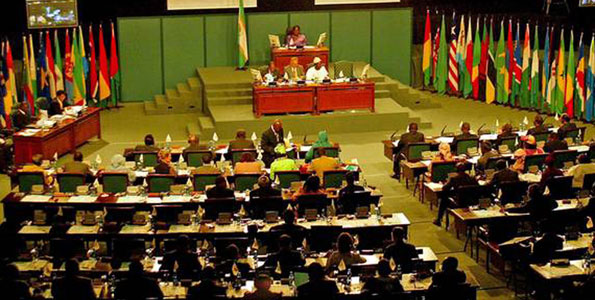 In an effort to combat cyber-crime, the Pan-African Parliament's Committee on Transport, Industry, Communication, Energy, Science and Technology will this year enhance advocacy for the signing and ratification of the African Union Convention on Cyber Security and Personal Data Protection by African Union member states.
PAP and the New Partnership for Africa's Development (NEPAD) will collaboratively identify 10-15 countries during the month of March 2018 where cyber security assessments will take place between April and June. The details of this project will be unpacked during a briefing at the PAP headquarters on 06 March 2018.
The Committee Chairperson Hon. Mamadou Aliou Conde says this exciting venture will be formalized with a Memorandum of Agreement between PAP and NEPAD.
The assessment will be done in phases until each African country is appraised. Between the months of June to July, NEPAD will capacitate Parliamentarians in collaboration with the African Union.
The AU Convention, adopted in 2014 by Heads of State and Government of the African Union, basically determines the security regulations necessary for the establishment of a credible digital space for electronic transactions, personal data protection and combating cyber-crime. It defines the commitments of AU member states at the sub-regional, regional and international levels to build the Information Society.
Dr. Towela Nyirenda-Jere from NEPAD says "the convention will provide the necessary security and legal framework for the emergence of the knowledge economy in Africa."
The Convention aims to strengthen the existing legislations on Information Communication and Technologies (ICTs) of member states and the Regional Economic Communities.
The establishment of a regulatory framework on cyber security and personal data protection takes into account the requirements of the respect for the rights of citizens, guaranteed under the fundamental texts of domestic law and protected by the international human rights Conventions and Treaties, particularly the African Charter on Human and People's Rights.