Front page
Society
North West/South West: Humanitarian Situation Is Deteriorating- OCHA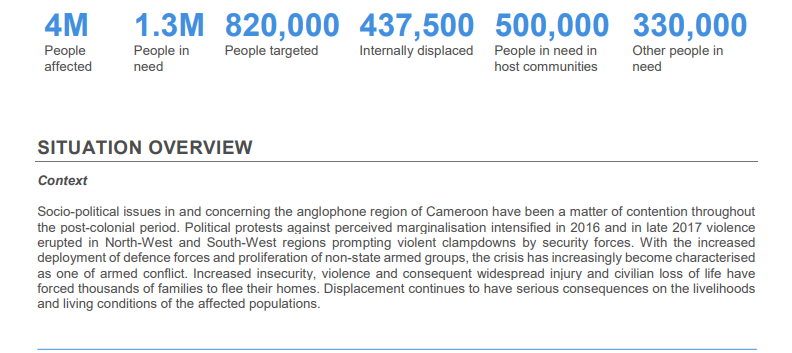 The United Nations Office for the Coordination of Humanitarian Affairs (OCHA) has confirmed that the Anglophone crisis has shifted into an armed conflict, affecting more than 4 million people, 1.3M in need, 820,000 People targeted, 437,500 Internally displaced, 500,000 People in need in host communities and 330,000 other people in need.
These figures are contained in the January report published on the website of the agency. The OCHA began the 2019 Humanitarian Response on February 20.
Brief Report By OCHA
• The humanitarian situation has fast deteriorated, 1.3 million people are in need of assistance.
• Insecurity has forced more than 430,000 people to flee their homes. More than 380,000 people need shelter, and some 418,000 people NFI assistance.
• An estimated 3,000 children suffering from life-threatening severe acute malnutrition (SAM) require urgent treatment.
• There is a high risk of a rapid increase in new HIV infections due to the interruption of ARV medication.
• About 3,700 unaccompanied or separated children need urgent psycho-social care and reunification support. • Access for humanitarian actors to reach the most vulnerable, and for affected population to needed services, remains difficult.
• The 2019 Humanitarian Response Plan for Cameroon will be launched on 20 February. The response to the crisis in the NorthWest and South-West will aim to assist 820,000 people, targeting five times more people than the 2018 Emergency Response Plan.
• In January, WFP provided food for 17,000 IDPs in Meme and Manyu divisions in South-West region.
• Humanitarian partners provided shelter assistance to 23,635 people, and 100,150 benefited from NFI distribution
FULL REPORT: https://reliefweb.int/sites/reliefweb.int/files/resources/ocha_cameroon_situation_report_no3_final.pdf?fbclid=IwAR3w3K3ZxS5FyhZNp7FvrQ-P1wvnsL56Y7Z67RXgTNozUo1QH6hK7SOgrTg