Front page
Society
News Brief from Cameroon News Agency, CNA, Saturday February 23, 2019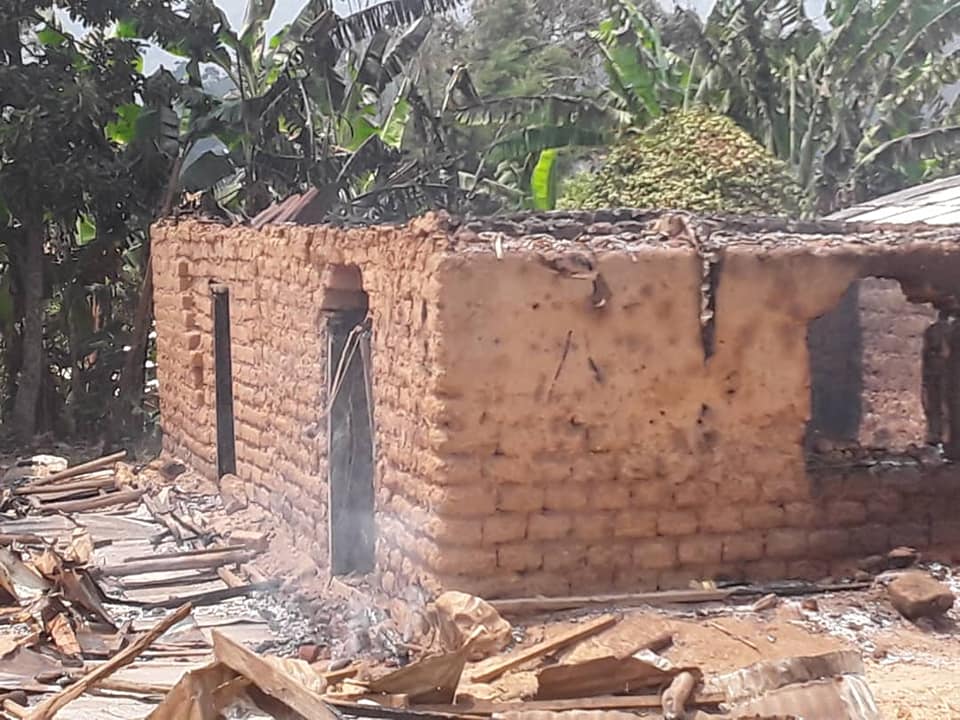 BUI
Close to 50% of houses in a village called Nge'ndzen in the Mbam valley, Bui division were reduced to ashes, after Soldiers stormed the area Friday night burning and looting.
The quarter around Government Secondary School Nge'ndzen was completely burned down.
A villager who spent the night in the bush reported that soldiers stormed the village on foot as early as 6 am and started shooting at random, even though the Ambazonia fighters who were taken by surprise vacated their camp, the military went on to set houses on fire.
Also in Bui, Soldiers equally visited Takijah locality on Saturday burning houses as they marched on , a local lamented to CNA, " Am crying in pain big brother after fifteen of our family house burnt down in Takijah today"
DONGA MANTUNG
Villagers of Chup in Donga Mantung have begun returning home after Soldiers llate Friday invaded the village. They burned down 12 houses and destroyed barriers in front of the Fon's residence. They looted food stuff and money after ransacking houses of villagers. No one was hurt.
Still in Donga Mantung, a retired Soldier popularly called "Ba Combatant" in Ngarum village, has been killed by Separatist fighters. He is reported to have been leaking intelligence to Soldiers on the whereabouts of the fighters. He was also accused of blackmailing villagers whose houses were eventually set ablaze by Soldiers. Ba Combatant was kidnapped late last year by the fighters who decided to give him a second chance. He has always pleaded not guilty.
CNA has also gathered that a Nigerian businessman called Fikio Lajoh who deal with Cocoa was killed in Ako three days ago. He was shot allegedly by Soldiers. Dozens have died in Ako subdivision and network has been completely shutdown.
MEZAM
Dozens of Shops at Ncholeta (Mbeme) have been burned down by Soldiers on Saturday. Eye witnesses have said they arrived in 3 trucks and paraded the streets of Awing, shooting and looting. No were recorded at the time of this compilation.
A boy has been hospitalized in Bamenda following an injury he sustained in a gun battle. Reports say he was shot around his mouth and rushed to the hospital. Denizens were obliged to run for their lives when gunshots were heard.
FAKO
Some Police officers have been caught in a CCTV Camera in Molyko, Buea as they attempt to loot from shops. The video shows how two Officers removed a security light from a corridor and later attached it back. They stood on a chair to remove the bulb. The two men failed, according to information gathered from the shop owner, CNA correspondent in Buea has said.
CRM/MRC IN MASSIVE REGISTRATION
There has been affluence in registration at the various head offices of Cameroon Renaissance Movement, CRM, of Muarice Kamto, now in jail. Dozens trooped to the offices to get their registration cards as party militants after the party announced the door was opened to do so. Since the incarceration of party bigwigs, it has gained sympathy from the public who believed that the State is using every method to silence CRM/MRC because it sees it as a potential danger to her lifespan on Cameroonians.
Gendarmes and Police had earlier barricaded the head offices to preempt any uprising or public disorder. This was instead interpreted by many as an attempt to intimidate potential militants.
SPORTS
It was under heavy deployment of Soldiers that the 24th Mount Cameroon Race of Hope took place in Buea, Saturday. Sports and Physical Education Minister, Narcisse Mouelle Kombi, was spotted in Bullet proofs and helmet as he stepped into the restive region.
Due to a lockdown imposed by Separatists, which was partially respected in Buea, the race was a shadow of itself with almost more than half from the usual 500 yearly participants, not showing up this year.
The usual fanfare that usually characterize the vent was conspicuously absent while the whole of Buea, Mutengene, Limbe and Tiko were militarized.
Those who conquered the Chariots of the gods, were Mbacha Eric, Ali Mohamadou and Godlove Gabsibuin in the first three male category. While regulars; Tata Carine, Ngalim Lizette and Ngwaya Yvonne came in the same order.
NIGERIAN PRESIDENTIAL POLLS
The Independent National Electoral Commission (INEC) says it will announce its decision on the violence and report malfunction of the card readers in some polling units in parts of the country.
INEC's Commissioner in charge of Voter Education, Festus Okoye, announced this in Abuja on Saturday while giving an update on the ongoing Presidential and National Assembly elections.
"The commission has received reports of violence and ballot box snatching in some areas leading to the disruption of the process. We have asked the Resident Electoral Commissioners RECs and the Electoral Officials on ground to submit their firsthand reports in relation to some of these incidents." An Official said.
Incumbent Mohamdou Buhari and Former Vice President, Atiku are the main candidates among the 73.
If the entire process is cancelled, Nigeria could be moving towards an interim Government headed by Senate President.
Several persons were killed in Saturday's poll including a soldier, sources have said.
CNA News- Nfor Hanson Nchanji
WhatsApp 679 700 696
Always available for inquiries and updates