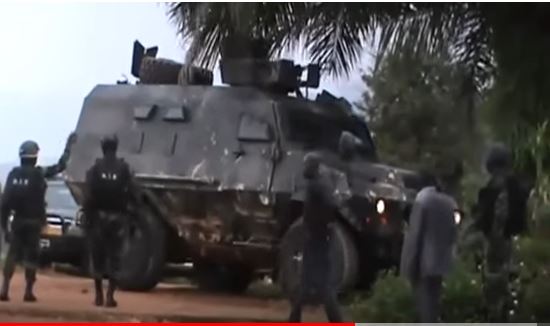 LEBIALEM, South West Region-Monday July 23, 2018-8:30 AM Local Time(Cameroon News Agency) Inhabitants of Lewoh-Ndungaleh and surrounding neighborhoods in Lebialem Division, South West region, have sent distress calls reporting an eminent invasion of the area by security forces.
Since Sunday, inhabitants of Lewoh-Njensieh, Lowe-Ndungaleh, those around Fiagep river have been relocating to other areas while some have remained indoors as tension heightens.
In a voice message obtained by CNA newsroom, a lady is heard reporting on the present situation insisting that they have all taken cover. In the 28 seconds audio, she repeated the word Let's pray several times calling on all to go down on their knees. The anonymous voice(female) said, "As I am talking they are all over…Everyone on your knees…Let's pray! Lets's pray Fontem in trouble…"
Earlier, the Communication Secretary of Ambazonia, Chris Anu, had warned that the Military was advancing on Lebialem division , targeting the Separatist fighters, Red Dragons, whose camps are found in the area. Mr Canu said there were several armored vehicles and drones sent to Lebialem to wipe out the group which is today seen as the most dreadful in the current arms conflict.
an activist said, the major areas and persons in danger includes: Fontem, Menji, Chief Fortabong of Nche,Chief Fuanjenaleh, Mbe Nkefua in Nkah, Fuabeleh Ngeu,  houses around river fiagep, Mbindia and the residence of a certain Aseah Fintem.
Locals say there have been gunshots in some of these areas but the actual situation on the ground cannot be independently determined. Government is yet to announce, it made such moves as Ambazonia leaders have accused them of using weapons and drones donated by foreign bodies to fight Boko Haram, to fight Southern Cameroonians.
(File picture)