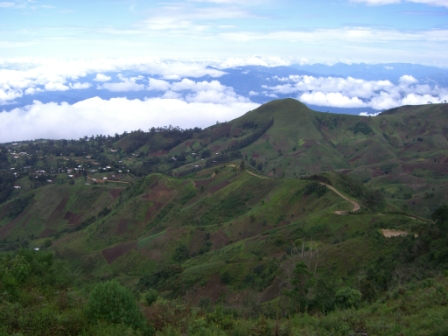 DOUALA,Cameroon-Monday September 3, 2018-1PM Local Time (Cameroon News Agency) It sounds like a joke, but in reality, that is what the people of Lebialem Division in the South West region have to go through. Officials of West region, have unofficially separated the country by instituting an 'Access Card' from locals fleeing insecurity in the division.
Mimi Mefo Info, reports that goung though Fongo Tongo is now a nightmare to Southern Cameroonians An Alou denizen narrates ordeal as they tried to get out of Lebialem through Fongo Tongo, saying that "separation" is already apparent in that area.
"A few days back, three families left Alou, moved through Atetlenwah(Fongo Tongo) to get a vehicle to Dschang.
They were arrested and each paid the cash sum of 3000 francs each( they were 4 women and 12 toddlers). Then paid 3000 each again to a local driver who works with what they called vigilante to transport them to Dschang. A few meters down the road, other locals of Fongo Tongo boarded the same car and paid 700 francs to Dschang. As if that is not enough, before you leave Alou, you need a laissez-passez from the the Gendarmerie post in Alou (at a cost of 20,000) which you have to present to the so called vigilante stationed in Atetlenwah in Fongo Tongo. Failure to present a 'laissez Passez', the vigilante arrests, tortures, detains and then at their convenience, hands you over to Gendarmerie. The gendarmerie will record you as "Amba Terrorist" and you are gone. In all, separation of the two Cameroons is already in effect in Fongo Tongo."
Earlier Mimi Mefo info had published an exclusive report on the difficulties of expectant and nursing mothers in Lebialem who give birth in bushes and at home due to lack of hospitals.
Women in Lebialem do not have access to sanitary pads and are bound to use grass and pieces of cloth which is not hygienic.
The alleged closing of the border between Lebialem and the West Region via Dschang by officials in the West region is not also helping matters.