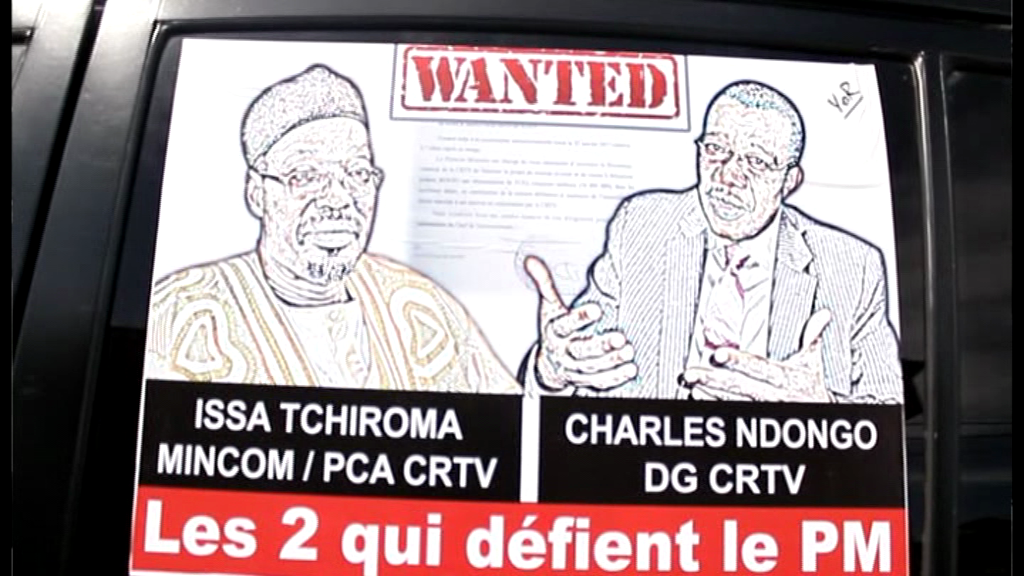 Yaoundé, Cameroon-September 20, 2017-10:00 PM Local Time (Cameroon News Agency) The compositor of some jingles used at the Cameroon Radio Television, CRTV, Isidore Modjo has accused Communication Minister Issa Tchiroma Bakary and the General Manager of CRTV, Charles Ndongo of deliberately keeping his money meant for royalties for jingles he composed for the corporation.
He stormed the premises if the ministry of Communication Tuesday denouncing what he termed disrespect of hierarchy.
He came with a padlock and chain tied round his neck, holding a placard reading, 'Issa Tchiroma and Charles Ndongo Wanted.'
Isidore Modjo told the Press, " This Padlock and Chain on my neck is just to symbolize that I'm now like a slave, because  if I cannot benefit from the fruits of my labor it means Tchiroma and Charles Ndongo are telling me that I am a slave."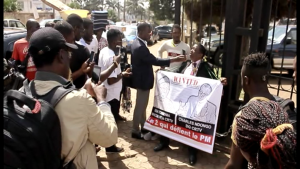 Isidore Modjo, talking to the Press in front of MINCOM
The designer of signature tunes brandished a Prime ministerial decision demanding CRTV management to pay him the sum of 50 million, a decision which is yet to be respected by the CRTV top management.
"Since three days now, I have been receiving messages threatening my life and the lives of my children, that's why I came here to tell Mr Tchiroma and Mr Charles Ndongo, that im not afraid and I want to ask Tchiroma one question, this money they have asked you to give me, is it your money?" He said shouting.
Mr Modjo said he was once called in an office to collect FCFA 10 million but he turned it down.
The two personalities concerned have not reacted.