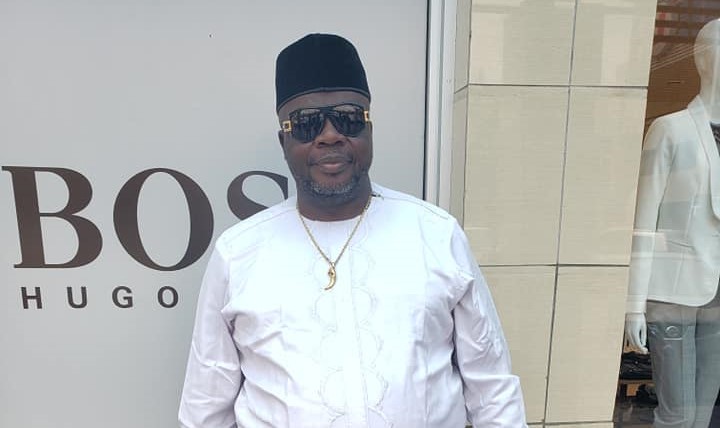 Accused by an online channel, CryOut Tv and relayed by some Activists as one of those spearheading kidnappings for ransom taking and infiltrating Ambazonia Separatist groups, Gelam Dickson alias Colonel Dickson ( Godfather ) has said all allegations are false. CryOut Tv an investigative online channel, had said they have incriminating evidences to show that he has been feeding fat from the crisis in complicity with top military officials.
The former owner of Hotel residence Carlos in Muea, Buea has in a live video on his Facebook page said he is innocent.
"I am just neutral, I do not visit Belgium, I don't visit America, I am just on ground zero. The real spies are on Facebook with fake names and in your groups. I am using my personal name on Facebook. I want peace to return to Cameroon , that is why I preach peace." He said.
Gelam Dickson in a live Facebook show on Sunday June 9, 2019
I am the first person affected by the struggle and I had to relocate to my small comfortable place. If i want to be a spy, i would be one and very good one because I started with the military since 1987 in Yaounde where I used to play the band".
Mr Gelam has also been accused of being a Con man who has also been implicating his friends in the "profession". Accusations against him have been overwhelming especially from some anonymous people who said they were either sent to jail because of him or got duped.
Last week, CryOut TV, an online investigative channel uncovers the Mafia network set up by some Anglophones in the military to extort money from Anglophones during this crisis. This is what they do:
They identify some men in town who knows successful anglophone business men. They call them pretending to be Ambazonia separatist fighters, then demand that they support the struggle or their houses shall be burned or they will be kidnapped. The victims, out of fear will then "support" by sending money through a mobile money number presented.
After one, two or three weeks, Gendarmes or Police Officers will then come arrest and accuse them of supporting Amba boys, and by extension supporting terrorism.
They will claim they have been investigating them and then prove with the mobile money transaction which the victims made. The victims becomes helpless.
These criminal security officers will then give two options: pay money for your release or be transferred to Kondengui. They demand from 3 million and above depending on how wealthy their victim is.
Once the victim pays the money, they are then released. CryOut investigator says he has received about 300 complaints with proofs. This particular racketeer under investigation has allegedly extorted about 300 millions Francs from victims.
A certain Commander Mbu Bernard Tabala (an anglophone) is at the head of this Mafia group.
However, in an interview with CryOut tv, Tabala refused answering to some questions and finally hung up the call. he had earlier denied the allegations.
CNA was reliably informed last year of the situation of a top official at the Chamber of Commerce in the South West region who had to escape from Cameroon after he was lured into paying hug sums of money , followed by blackmail and intimidation.