By NFOR Hanson NCHANJI
Yaoundé, Cameroon-Wednesday December 20, 2017-00:30 AM Local Time (Cameroon News Agency) The National Communication Council, NCC has suspended Ernest Nana Obama Dieudonne, known for his hatred towards Anglophones, from exercising the Journalism profession for two months, a decision by NCC read on CRTV 8 PM News indicates.
The decision was taken after the NCC examined a petition filed by Professor Vincent Sosthene Fouda on the broadcast of his nudity on November 23, 2017 on Vision 4, a Yaoundé based television Channel.
The Director of Vision 4, Ernest Obama, according to NCC did not respect the deontology of the profession by exposing the nudity of the University don accompanied by unrefined commentaries. The documentary was aired by 9 PM that fateful day.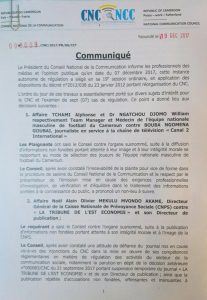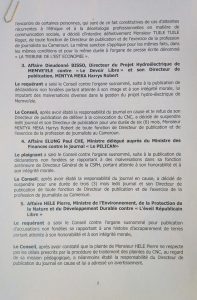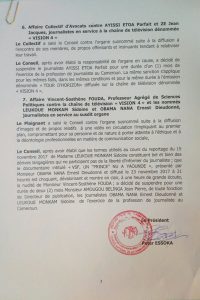 Final Communique of NCC
Going by the communique, the NCC suspended for two months, Monkam Sidouane, Journalist with Vision 4 whose report on the Sosthene Fouda family scandal was aired on November 1 5, 2017.
Though Ernest Obama is not in his first suspension by NCC, the decision taken this December is the heaviest and could ruin his career. He is noted to have supported the government and even proposed that Anglophones be subjected to thorough house-to-house checks and massive interrogations. His stands on the crisis pushed over 50 Anglophone Journalists to petition the NCC late this year.
Barrister Akere Muna in his letter to the United Nations on September 26, 2017 described his actions as genocidal and called on the body to take concrete actions.
Also the Owner of Vision 4, Amougou Belinga was suspended for a period of two months.
The Editor-In-Chief of Vision 4, Parfait Etoa Ayissi was suspended by the NCC and the program Tours D'horizon after a college of lawyers petitioned the NCC against him on defamatory statements towards their personalities.
NB
Contrary to the above Communique which suggests Obama and Monkam were dismissed for life, a detailed report of the sanctions obtained by CNA shows that none has been dismissed. They were both given two months ban including their boss Amougou Belinga.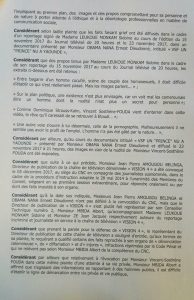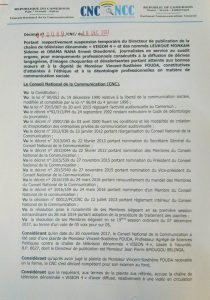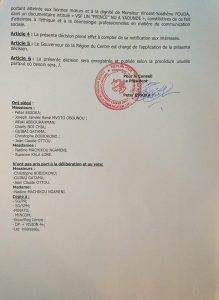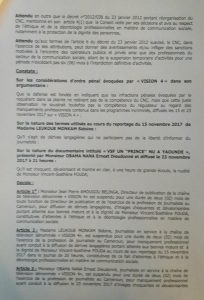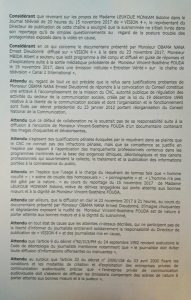 Detailed Report of Petitions
Other major decision taken was the ban for life from exercising in Cameroon, the Publisher of Tribune De L'Est Roger Chantal Tuile who uncovered financial scam at the National Social Insurance Fund, CNPS. He was however banned for unprofessional behavior and character assassination of the General Manager, Mekulu Mvondo.
If everyone who reads our reporting, who likes it, helps fund it, our future would be much more secure. For as little as £1, you can support Cameroon News Agency on mobile money or call the number for details +237 679 700 696 – and it only takes a minute. Thank you.