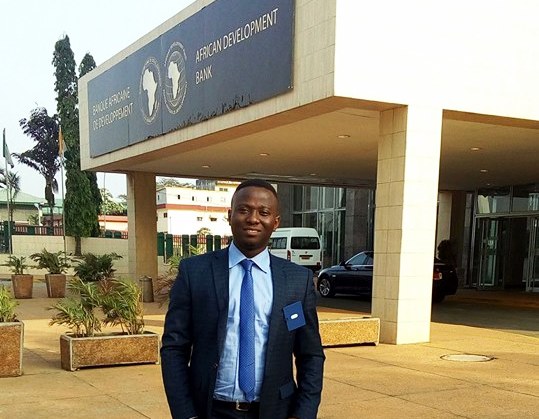 By NFOR Hanson NCHANJI
Douala,Cameroon-Monday February 26, 2018-9:47 PM Local Time (Cameroon News Agency) The former President of the Association of Student Journalists, University of Buea, ASJUB, Tayimlong Robert Afuh has been appointed as one of the Young Professionals by the African Development Bank, AfDB for a three year term in office.One of the most celebrated ASJUB President, popularly called Bob by his peers went through a rigorous selection exercise which lasted for five months multi-phase vetting against tough criteria.
The 2010 graduate from the department of Journalism and Mass Communication, JMC in the University of Buea, Cameroonian born Robert Afuh Tayimlong ,a career diplomat who had served at the Ministry of External Relations of Cameroon for four years prior to joining the University of Pretoria for a PhD in Development Studies is one of 30 young professionals appointed from a pool of 7000 candidates who vied for the position.
As far as development is concerned, he holds two Master's in International Cooperation, Humanitarian Action and Sustainable Development. He also holds an Advanced Human Rights Certificate on the Right to Development in Africa, amongst many other development and peace related diplomas.
He released the following statement a while ago to disclose the development…
IDEAL
By the grace of the Great God of David, I am honoured and pleased to disclose that I am joining the African Development Bank in Abidjan, la Cote d'Ivoire, on an initial three-year deal, following my appointment as a Young Professional (YP), after five months of multi-phase vetting against tough criteria.
NUMBERS
Pursuant to its call, by September 15, 2017, the Bank had received over 7000 individual candidatures from 54 Regional Member Countries (RMCs) and 26 Non-Regional Member Countries (NRMCs), 63 (0.9%) of which were preselected for final stages of vetting, including amongst other(s) a psychometric assessment, an I.Q. assessment and a competency-based interview, mid-January 2018 in Abidjan. Approximately 30 (about 0.4%) received appointment proposals on January 31, 2018, and to be among is yet the greatest honour of my professional life. 'We went, we saw, we conquered' and 'the best is yet to come.'
While simultaneously completing the PhD in Development Studies, I will now contribute to the Bank's crucial mission of reducing poverty in its Regional Member Countries (RMCs) by spurring sustainable economic development and social progress, with focus on five priority areas (High 5s): (1) LIGHT UP and power Africa, (2) feed Africa, (3) industrialise Africa, (4) integrate Africa and (5) improve the lives of Africans.
MISSION
Today's achievement constitutes an entire chapter in my "Accolade of Optimism", the equivalence of Barack Obama's "Audacity of Hope", and is a special dedication to the young men and women I grew up with in the neighbourhoods of Bamenda; to the young people who worry about the challenges of the 21st Century and making difficult choices to be part of the solution; to everyone who lost a parent while they were young and struggled to make sense out of childhood; and finally to all who are working hard and looking forward to the dawn of a better day.
ACKNOWLEDGMENTS 
The very unfortunate event of twenty years ago (May 15, 1998), almost undermined the possibility of this special moment. This explains why I would like to thank every individual, family, institution and government which, in one way or another, has been part of my journey so far. It would be hard to name every single individual but rest assured of my profound gratitude.
The Afuh's, Feka's and Vusweeh's have been incredibly supportive. I do not have the words to thank them.
Very special thanks go to the management and staff of the University of Buea, the International Relations Institute of Cameroon (IRIC) of the University of Yaoundé II, the Ca' Foscari University of Venice, the Humanitarian Academy at Harvard University – Massachusetts, the Kofi Annan International Peacekeeping Training Centre – Accra, the Alioune Blondin Beye Peacekeeping School – Bamako, the University of Peace in Africa – Ouagadougou [session], the International Management Institute – New Delhi, the Nanyang Technological University – Singapore, the Centre for Human Rights – Pretoria and the International Institute of Human Rights – Strasbourg. A couple of pre-university institutions from Mankon, to Nkwen, passing through Kedjom Keku to Ashing-Kom also laid the foundation for which I remain indebted.
I am as well grateful to the leadership and staff of the Cameroon Ministry of External Relations (my permanent home) and its Embassies in Madrid and Berlin, the African Court on Human and Peoples' Rights – Arusha, the National Emergency Management Agency of Nigeria – Abuja, FIFA & the Russia 2018 World Cup Local Organising Committee – Sochi, the Pan-African Union of Peace Builders and my staff at the Pan-African Preparatory Group.
During the last few years, as I travelled to some 18 countries around the world, seeking comprehensive leverage and hands-on experience, I benefitted directly and indirectly from the funding of the Governments of Cameroon, Nigeria, Ghana, Mali, Switzerland, India, Singapore, Germany, Denmark and Flanders (autonomous northern region of Belgium). I'd like to thank them.
In the same vein, I am appreciative of the United Nations Office for Disaster Risk Reduction, the African Development Bank, the World Bank, Missio Katholisches Hilfswerk, the Global Peace Foundation, the Episcopal Commission for Justice and Peace – Burkina Faso, Diplomatic Courier, the American Friends Service Committee and the International Humanitarian Studies Association.
SCRIPTURE 
"You are the LIGHT of the world. A city built on the hill cannot be hidden. Neither do people light a lamp and put it under a basket. Instead they put it on its stand, and it gives LIGHT to everyone in the house. In the same way, let your LIGHT shine before others, that they may see your good deeds and glorify your Father in Heaven." See MATTHEW 5:14-16.
INVITE
Wherever you are and whatever you do, join us to contribute towards ILLUMINATING (LIGHTING UP) the world and handing down to future generations. It's a God-given mission requiring faith and confidence in Him and in you, love for yourself and for others, hope, optimism, courage, hard work, sacrifice, determination, a respectful but smart and daring attitude, passion in your aspirations, persistence when you fail, resilience and commitment to bounce back when life knocks you down, humility to accept criticism and to embrace new ideas, incessant desire for improvement, willingness to take risks and unapologetic rejection of procrastination. We all have 24 hours every day. It matters how you make use of yours. Every moment counts. Take advantage while you are young [but remember to make time for leisure]. Do not be afraid of failure. Believe in your dreams. Never give up. It could take some time. Rome was not built in one day. Stay focused. You are the LIGHT of the world. God bless!
Done in Pretoria, South Africa
Robert Afuh Tayimlong
Young Professional, African Development Bank
#The_Promises_of_Christ #The_Accolade_of_Optimism #Africa #AfDBYPP#High5s #International_development #Global_governance
**The Accolade of Optimism is an unfolding true life story of rags to riches and riches to global prominence**