Front page
Sports
Trending
Football, Soft Power and Contemporary International Relations: An Analysis of the Political gains pursued by State and non-State Actors from the Game of Football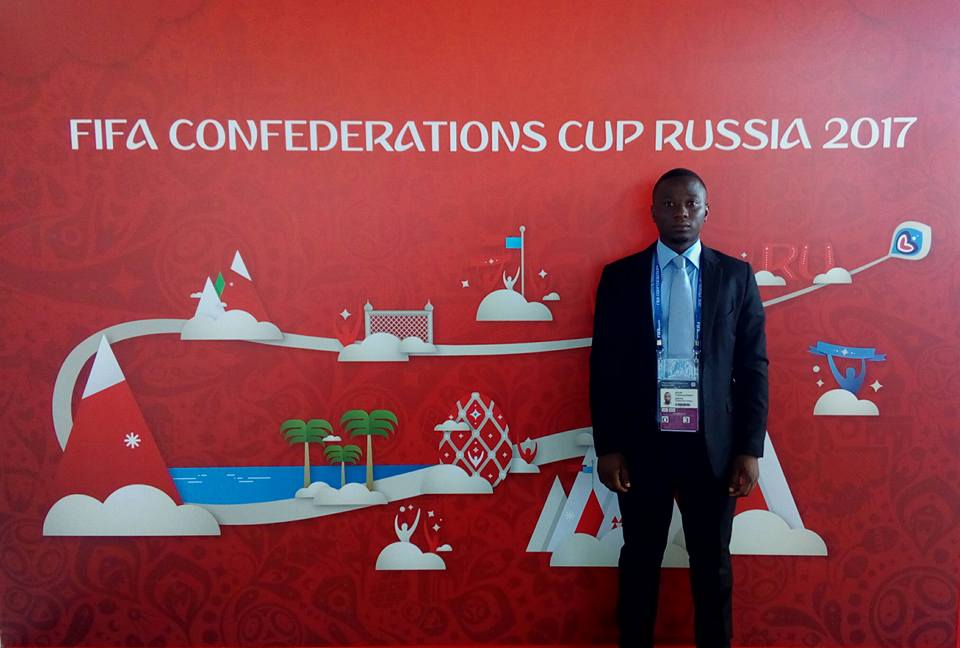 By Robert Afuh Tayimlong at the 2017 FIFA Confederations Cup in Sochi, Russia
In 1863, when Football Association in England was formed, becoming the sport's premier governing body, little did its founders know the global impact the sport would have, more than 150 years later. Football like sports in general provides tremendous opportunities and platforms for actors in international relations to pursue various political goals. Regardless of the specificities of interests pursued, actors in international relations seek to explore the potential of the game to improve their position in a prevailing balance of power. To be precise, in the context of sports, they compete to strengthen their leverage in terms of soft power, to achieve their objectives.
From the perspective of international relations, power can be considered the ability of a State or non-State actor to influence other actors to behave in ways they normally would not thanks to the political, military, economic, financial, geographic, diplomatic and socio-cultural capabilities at its disposal. There are diverse classifications of power but that which relates most to the subject matter in question is the distinction made between hard and soft power. While hard power is generally associated with the military and coercive influence that State and inter-State actors exert on other actors to attain their interests, soft power – a concept largely credited to American political scientist Joseph Nye, represents a more subtle and persuasive approach involving the exercise of a State's socio-cultural, historical and diplomatic influence in international relations. It can be agreed that the game of football falls within the framework of the socio-cultural aspect of soft power.
This article therefore attempts to provide pragmatic evidence in support of the assertion that actors in international relations make the most of the extraordinary fanfare associated with football to advance interests that are political in nature. The aim is to buttress the fact that actors in international relations ranging from States, intergovernmental organisations (IGOs), politically inclined non-governmental organisations (NGOs), sub-State entities [such as national liberation movements], terrorist groups as well as individuals usually stop at nothing to take advantage of the game of football to have a comparative edge over other actors in the accomplishment of their goals.
The 'Political' Dynamics of Football compared to other Sports
There are a number of factors that make football particularly distinct from other sports, thereby attracting the interest of international political actors. First and foremost, football is a team sport compared to other individual sports like lawn tennis, table tennis, golf, skiing, wrestling, boxing, racing, bodybuilding, bowling, canoeing, gymnastics, judo, swimming, taekwondo, etc. It goes without saying that unlike individual sports, the team nature of football consequentially attracts more media attention, fanfare, viewership and deep-seated affection of millions of people around the world. The FIFA World Cup for example is broadcast in over 200 nation-States and the final is watched by over one billion people. Similarly, the UEFA Champions league final, considered the biggest annual event on the football calendar, is watched by an estimated global television audience of 180 million in over 200 territories. While advertisers see this as an opportunity to make money, global political actors equally seize the occasion for massive outreach.
Additionally, whereas some sports are more popular in specific regions of the world, football is largely a global game. In fact, it is safe to say that no region of the world has escaped the attention of football lovers. It is estimated that over 50 countries worldwide currently have their own national leagues. This is not the case with other team sports in the likes of cricket and rugby that are regionally specific to a great extent.
While there are several other factors that make football unique from other individual and team sports, one factor that cannot be ignored is the sheer number of spectators that turn out during football matches. It is not surprising that the world's largest sports theatre – North Korea's Pyongyang based Rungrado 1st of May Stadium with a capacity of 150,000 people mostly hosts football games aside from gymnastic and artistic festivals. In fact, the Democratic People's Republic of Korea national football team is the main occupant of the stadium. The same comparison can be made of the number of foreign spectators who flock into host countries during major football tournaments. In 2014, the year Brazil hosted the FIFA World Cup, the country's Ministry of Tourism reported that more than six million visitors were registered in the country. Also, the fact that up to 90 nation-States were visited during the official Trophy Tour, with 45 heads of State amongst those to get their hands on the trophy is also worth noting. This doesn't happen with any other individual or team sport but the Olympic Games [which itself brings together many other sports including football]. This best explains why international political actors have vested interests in football, without necessarily ignoring other sports.
Last but not the least; football is a non-discriminatory sport on the basis of gender. Although the men's game is more popular with fans, the women's is also attracting talented players, fans and investors. The inclusive characteristic of football also mean size, height, nationality and race do not matter as long as the athlete possesses the requisite skills and passion to play. Given that political actors almost always endeavour to appeal to all classes of people, the inclusive trait of football there makes the sport distinct from others.
Football and Statehood in International Relations
The organisation of major regional and global football tournaments such as the COPA América in the Americas, the AFC Asian Cup in Asia, the European Championship in Europe, the Africa Cup of Nations in Africa and the FIFA Confederations Cup and World Cup, is one of the non-negligible ways in which States conduct their international relations. The customary protocol of beginning international encounters with the display of the national flags of competing teams and the playing of their national anthems tells of the solemnity of the occasions with regards to statehood.
Otherwise known as super powers, it is an established and observable fact that the most powerful States in terms of military and economic might steal most of the spotlight generated by the international news media. Therefore, some comparatively weak States in terms of hard power seek to advance the development of football, a key element of their soft power, as a balance of power measure. This perhaps explains why African heads of State are particularly concerned about the performance of their national football teams during major continental and global tournaments. In fact, just booking qualification for the FIFA Confederations and World Cup mean a lot to them. For many of these States, the media coverage associated with the tournaments is an opportunity to improve their visibility and image on the international scene – what the French refer to as "l'image de marque." It is therefore an issue of national pride and glory. Many players have even come to understand this dynamic, reason why it is now commonplace for them to celebrate important victories by displaying their national flags – solemn symbols of statehood.
Long before joining the G20 (an international forum of the world's leading industrialised and emerging economies) or the BRICS (an international association of five major emerging economies: Brazil, Russia, India, China and South Africa), Brazil was mostly known on the international scene thanks to football. Indeed, they have won the FIFA World Cup for a record 5 times – 1952, 1962, 1970, 1994 and 2002 respectively, and have produced some of the world's best players and prolific strikers ranging from Pele, Romario, Rivaldo, Ronaldo, Ronaldinho and Neymer, just to name a few.
There are many examples of political interests demonstrated by heads of State in football affairs. Former Nigerian President Goodluck Jonathan decreed the suspension of the Super Eagles from all international football tournaments following their disappointing performance at the 2010 FIFA World Cup in South Africa. Although he finally reconsidered his decision as a result of FIFA's threat to summarily ban his country from participating in any future FIFA tournament against the backdrop of any undue government interference in the affairs of the Nigerian FA, his warning signal finally paid off as Nigeria won the 2013 Africa Cup of Nations. Despite FIFA's firm stance on the issue of government interference, political analysts may agree that the notions of State sovereignty and integrity partly explain the intermittent meddling of the political leadership of States in the internal affairs of their FAs. At the same time, it would be difficult for FIFA to totally stamp out State interference in football matters given that their work and tournaments are organised in territories of sovereign States.
In many African and Latin American States, Ministers of Sports have often been fired from Government after dismal performances of their national football teams in major tournaments. Unlike other sports, football also constitutes giant stakes in these ministries and comparatively enjoys superior budgets for its development.
In Africa, Cameroon presents a notable case where political leadership has given football a special status in the affairs of the State. By 2017, the country had won the Africa Cup of Nations 5 times. Only Egypt has won the trophy more times. It is also the African State with a record seven appearances at the FIFA World Cup. It has as well historically produced some of the best African players of the sport in the likes of François Ndoumbé, Roger Milla, Thomas N'Kono, Jean Manga-Oguéné, Théophile Abega, Joseph-Antoine Bell, François Omam-Biyik, Rigobert Song, Lauren Etame Mayer, Patrick Mboma, Samuel Eto'o Fils and Christian Bassogog.
In 1990, the President of the Republic, Head of State Paul Biya persuaded iconic striker Albert Roger Milla to return to the national side for the FIFA World Cup. At age 42, he went on to feature at the 1994 edition as the oldest player in the history of the tournament. In 2003, Indomitable Lions prolific forward Patrick Mboma retired from international football at the age of 33 after winning the Africa Cup of Nations the previous year in Mali. In 2004, the President of the Republic yet again intervened, requesting him through the then Minister of Sports, to rejoin the team for the Africa Cup of Nations. Mboma ended up as one of four top scorers in the competition, scoring a total of four goals. In 2012, four-time African player of the year and all-time leading scorer in the Africa Cup of Nations – Samuel Eto'o who had served an eight months ban for his role in leading a players strike action in 2011, refused to rejoin the team at the end of his ban. Once more, on instructions of the President of the Republic, the Prime Minister, Head of Government held a crisis meeting with the player, convincing him to return to the team. Also, under the Biya administration, it has been tradition that the Prime Minister, Head of Government hands the national flag to the team captain of the Indomitable Lions before they depart for major tournaments. Similarly, a reception in their honour has always been organised at the Presidential Palace each time they win the Africa Cup of Nations.
If there were no political incentives, matters like these would probably be handled exclusively by the FA or the Ministry of Sports as a last resort, with no direct involvement of the President of the Republic, Head of State or Prime Minister, Head of Government. Also, if there were no such incentives or if it weren't a matter of statehood, the government would not have been disbursing huge sums of money from State coffers to remunerate players, far above the average salaries of civil servants.
It has also been a longstanding tradition for the Head of State to annually president over the final of the Football Cup of Cameroon. While football presumably takes precedence, this annual tradition is the occasion where the Head of State communes with the rest of the Cameroonian sports community, personally handing trophies to winners of the various disciplines.
The special status enjoyed by football in the Cameroon political realm was further made evident in 2014 when the Government seriously lobbied to and eventually hosted the 2016 Africa Women Cup of Nations and got the mandate to host the upcoming 2019 Men's edition of the tournament. The same year, the Head of State decreed the creation of the National Football Academy. In May 2017, he personally appointed the Board Chair and General Manager of the Academy in the persons of Issa Hayatou – the recently retired President of the Confederation of African Football (CAF) and Enow Ngachu, the current Head Coach of the senior female national football team (the Indomitable Lionesses of Cameroon), respectively. Their appointments may also be considered political compensations for their outstanding role in promoting African and Cameroonian football respectively. In fact, Issa Hayatou served as interim FIFA President from October 2015 to February 2016, CAF President from 1988 to 2017 after serving as President of the Cameroon Football Federation (FECAFOOT) from 1986 to 1988. On his part, Enow Ngachu has upheld the colours of the national flag by leading the Indomitable Lionesses to two finals of the Africa Women Cup of Nations – 2014 in Namibia and 2016 in Cameroon; and the quarter final of the 2015 FIFA Women's World Cup in Canada.
Even military and economic powerful States that enjoy most of the spotlight in international relations have also for a very long time shown interest in the development of football, thereby recognising the need for diversifying their power. Typical examples are the United States, France, Great Britain, China and Russia – all permanent members of the most politically powerful organ of the United Nations [and global] system – the Security Council (UNSC). France, Great Britain and to some extent Russia, have historically had vibrant national football leagues that attract a great deal of foreign talents and media attention. It was no accident that in 2013, the then world's football highest paid player – Samuel Eto'o played for a Russian club – FK Anji Makhatchkala.
A good number of France's national team best players have been of foreign descent including former FIFA player of the Year, Zinedine Zidane. States therefore go as far as naturalising talented foreign descents for the sake of soft power. In 2015, French-born midfielder of Angolan origin – Blaise Matuidi was part of President François Hollande's official delegation during a State visit to Angola [just as Rigobert Song and Achille Webo, both former players of the Indomitable Lions of Cameroon who have featured in the Turkish Süper Lig, joined President Paul Biya's official delegation to Turkey during a State visit in 2013]. These are glaring examples of the role played by football stars in the furtherance of State interests. In recent years, conscious of the contribution of football development to soft power, the United States and China have followed suit with significant progress in the Major League Soccer (MLS) and the Chinese Super League, respectively. China in particular is not hiding its ambitious plan of becoming the world's leading football power. In 2015, President Xi Jinping declared that his "biggest hope is for Chinese football teams to join the world's best." Lately, the country has been poaching some of the world's best players, offering them colossal sums for wages, as much as $40 million a year –  the highest for any football player in the world.
The same permanent members of the Security Council have clashed in highly contested bids to host the FIFA World Cup, in so doing buttressing their respective political interests in showcasing their soft power on the international stage. For example, in 2010, Great Britain and Russia intensely lobbied to host the FIFA 2018 World Cup while the United State contested for the 2022 edition. Political figures personally led their countries' bids. The case for Britain was made by future King – Prince William and former Prime Minister David Cameron who represented the monarchy and government, respectively. On the side of Russia, current President, at the time Prime Minister Vladimir Putin was personally involved in the process. Many observers consider the investigation campaigns and corruption scandals that ripped FIFA in 2015, leading to the fall of Sepp Blatter and members of his inner cycle, as a major retaliation of Great Britain and the United States for losing their bids to Russia and Qatar, respectively.
Lately, President Vladimir Putin has been meeting intermittently with FIFA officials, notably President Gianni Infantino, in view of successfully hosting the 2017 FIFA Confederations Cup and 2018 World Cup. President Putin may see these as opportunities to show the world that Russia is not necessarily a State aggressor that uses its super power status to unjustly annex territories (Crimea) from weaker sovereign States (Ukraine), or a nation that supports dictator regimes (Syria) that use chemical weapons on their own peoples, or better still, a State that seeks to undermine the democracy of their adversaries through cyber hacking as portrayed by western media, but an open, democratic and cosmopolitan society ready to welcome hundreds of thousands of people from around the world for major football festivals. President Putin may therefore be keen to project Russia's soft power to the rest of the world.
There are several reasons why the political leadership of States have vested interests in the development of football. In States where a significant majority of citizens are football lovers, the success of their national teams in major tournaments or competitions strengthens or revamps the spirit of patriotism and the sense of nationalism. On many occasions, it brings citizens together, regardless of linguistic and socio-cultural divides. Just as President Nelson Mandela sought to use Rugby to unify a Post-apartheid South Africa, it was not by accident that the Government of Cameroon took measures to ensure that the Indomitable Lions paraded the streets of the nation's capital – Yaoundé with the Africa Cup of Nations trophy following their victory in Gabon. Representatives of FECAFOOT and the Ministry of Sports and Physical Education eventually continued with the parade to the nine other regions of the country. This came at a time when the Government was multiplying efforts to find solutions to the socio-political unrest in the two English speaking regions of the country.
The football industry is also a major area of employment of thousands of youths in some countries. Most football leagues span across various categories ranging from first, second, third and even fourth divisions on the one hand, as well as senior and junior levels on the other, depending on age groups. This is also true with tournaments organised by FIFA and other regional confederations. This diversity alone implies that multitudes find jobs in the industry, thus reducing the rate of unemployment. It goes without saying that political leaders would rather have their youthful populations occupied with football than join radical extremist groups that threaten State security. It is also worth mentioning the wealth generating effect of TV rights associated with the coverage of games. The touristic potential of the sport need not be reemphasised.
For the past few decades, football has also been a magnet of foreign direct investments in many States. In England for example, due to the grandeur of the Premier League, a sheer number of the top clubs are owned by foreign investors. Manchester United is owned by the Glazer family of the United States. Manchester City is owned by Qatari billionaires. On its part, Chelsea is owned by a Russian billionaire [who was actively involved in his country's successful bid to host the 2018 World Cup], while Leicester City is owned by a Thai billionaire. If part of the role of Statesmen or political leaders is to ensure economic growth and development by creating favourable conditions for foreign direct investments, then it is safe to say that they have a political motivation to pursue the development of football.
Similarly, talent exporting States especially in Africa and Latin America directly benefit from the huge sums of pay cheques received by their citizens playing in foreign leagues, especially in Western Europe. Many of these players own huge investments and run big foundations back home, thereby partnering with their governments in finding solutions to their countries' socio-economic challenges. To this can added the fact that when national football teams win major international trophies, their victories come with a financial prize that is usually dedicated to the further development of the game at home.
The Significance Football in Peacemaking and to National Liberation Movements
In times of conflict, football has the potential of bringing disputing States together on a common agenda just as it could further deepen already poor relations. Gabon and Equatorial Guinea are typical examples of States in disagreement that have been brought together by football. Since 1972, a maritime and border dispute opposing the two over the sovereignty of the Mbane Iceland has led to tensed diplomatic relations between them. However, as Bekombo Jebea notes in an article titled "Sports and Peacebuilding in Central Africa", despite the diplomatic brouhaha, the two States made a joint bid and eventually co-hosted the 2012 Africa Cup of Nations.
On their part, sub-State actors like national liberation movements also consider football as more than just a game. Cases in point include Palestine, South Sudan and Catalonia. Palestine for example is FIFA's only member that is yet to become a State. They view their FIFA membership and frequent encounters with independent States as one of the embodiments of their route to statehood. A few years ago, Palestine Football Association reportedly sought Israel's consent to upgrade a stadium in Al-Ram, a Jerusalem suburb near the barrier separating the West Bank from the State of Israel, and eventually benefitted from FIFA's funding for its refurbishment. In 2008, it also convinced FIFA to allow Palestine play its first ever match on home ground rather than in a neighboring Arab capital as had previously been the case. In one way or another, Palestine has been using football to show the international community that they are ready for statehood. In the case of South Sudan, in 2011, on the day after they officially proclaimed independence, they chose to mark statehood with a friendly against a Kenyan club -their first in history. Although they lost to the Kenyan club, to them, football was a means to symbolically mark their autonomy on the international stage.
Catalonia, a Spanish territory, presents an interesting case. When Real Madrid and Barcelona football clubs of the Spanish La Liga clash in what is known as the El Clásico, fans, football lovers and onlookers may be thinking it is just an interesting encounter characterised by the extraordinary display of skill and talent, thereby failing to recognise its sustained political undertone and historical significance. As a matter of fact, some political actors especially in Catalonia (Barcelona) see such encounters as a clash of both national and local identities. Despite being a part of Spain, Catalonia has its own language, history and culture. In recent years, it has been no secret that pro-independence groups have been pushing for its separation from Spain. This led to a 2014 non-binding referendum on the issue of independence. Barcelona FC has therefore been a symbol of Catalonia and while the club itself isn't overtly supporting independence, broad bases of its fans including members of its board probably do.
The Personal Interests of Politicians in the Game of Football
Occasionally, smart politicians in power are quick to exploit the brilliant performance of their local or national teams to distract their populations from the political challenges of the moment. In line with this distracting effect of football, in an October 2015 interview, Germany's Liverpool manager Jurgen Klopp is quoted saying "… the fans can forget their problems for 90 minutes. The fans can talk about the game for days…"
Other politicians have the tendency of creating personal bonds with specific football teams and fans. Former French President Nicolas Sakorzy is a fervent supporter of Paris Saint-Germain football club (PSG) and usually finds time from his political schedule to personally watch their games at the Parc des Princes. While fans of football teams may think that politicians who show up at stadia during match days are mere lovers of the game, they may be ignoring the fact that some of these figures, usually well-known, seize such opportunities to commune with the population in a bid to increase their visibility, build fresh political bonds or perhaps, maintain, mend or strengthen existing ones. Usually, their hope is to remain popular in the minds of their electorate with the expectation that such popularity will be translated into favourable votes during elections.
Some go as far as sponsoring local football teams or tournaments in their municipalities. In the North West region of Cameroon, a typical example is Honourable Wallang Richard, Cameroon's People's Democratic Movement (CPDM) Member of Parliament for Menchum South (Wum and Benakuma), who in this constituency, sponsors an annual football tournament named after him. At the back of their minds, they are conscious of the fact that by communing with football loving fans in ordinary times, it would be much easier for them to mobilise the same populations during periods of electoral campaigns. It goes without saying that the same pitches where football games are played serve as suitable grounds for political campaigns during election periods.
The Relevance of Football to Intergovernmental Organisations (IGOs) and Non-Governmental Organisations (NGOs)
It can be said without any fear of contradiction that intergovernmental organisations (IGOs) and non-governmental organisations (NGOs) constitute important actors in international politics. While States are considered the primary actors in line with realist paradigms, liberals emphasise the role of non-State actors such as IGOs and NGOs. And whilst State actors find opportunities in football to advance political interests, so do IGOs and NGOs take advantage of the sport to achieve policy objectives.
As a quintessence of IGOs, the United Nations (UN) system has been considerably taking advantage of the crowd pulling effect of football and sports in general. This came to the fore in 2011 when its former Secretary-General Kofi Annan nominated former President of the Swiss Confederation Adolf Ogi as his Special Adviser on Sport for Development and Peace. Later, 2005 was proclaimed by Resolution 58/5 as the International Year of Sport and Physical Education (IYSPE), affirming that "the United Nations is turning to the world of sport for help in the work for peace and the effort to achieve the MDGs." The importance of sports to human development has also been highlighted in several key UN documents and declarations notably the 2000 UN Millennium Declaration (General Assembly Resolution 55/2), the 2005 World Summit Outcome Document and the 2010 MDG High-level Meeting Outcome Document, in which world leaders "recognise that sport, as a tool for education, development and peace, can promote cooperation, solidarity, tolerance, understanding, social inclusion and health at the local, national and international levels." The place of football within these frameworks cannot be undermined.
A propos football in particular, UN agencies have been establishing productive working relationships with current and retired football stars in the accomplishment of their mandates. So far, this has been achieved by appointing them Goodwill Ambassadors. Five-time Ballon d'Or winner Lionel Messi, four-time African Player of the Year award winner Samuel Eto'o and two-time winner Didier Drogba are classic examples. In March 2010, Messi was appointed UNICEF Goodwill Ambassador. Announcing the decision, then UNICEF Executive Director Ann Veneman said the player will "help shine a spotlight on the most vulnerable and invisible children." Since 2004, he has dedicated time to the organisation, supporting their offices in Spain and Argentina with advocacy and fundraising. He was among a team of top footballers who featured in a public service announcement to launch the FIFA-UNICEF joint campaign for the 2006 FIFA World Cup held in Germany under the banner "Unite for Children, Unite for Peace." In 2007, he participated in a local UNICEF telethon called "Un Sol para los Chicos" which fundraised over US$1 million to benefit UNICEF projects in Argentina.
On his part, just like his former Barcelona teammate Lionel Messi, in March 2017, Samuel Eto'o was named UNICEF Goodwill Ambassador for Cameroon. Announcing the decision, UNICEF Cameroon Country Representative, Dr. Felicité Tchibindat said the choice of Eto'o was influenced by his outstanding achievements and humble beginnings, adding that his success story would help encourage Cameroonian youths to be assiduous and daring.
Long before Messi and Eto'o, Didier Drogba has been United Nations Development Programme (UNDP) Goodwill Ambassador since January 2007. He's helped the organisation raise awareness on development challenges in Africa in line with the achievement of the Millennium Development Goals (MDGs); what is now known as the Sustainable Development Goals (SDGs). In December 2011, he was joined by the Brazilian Ronaldo and Zinedine Zidane as well as other superstars of European football at a charity match in Hamburg – Germany to raise funds for and create awareness on the famine that ripped the Horn of Africa, on the occasion of the ninth annual UEFA-backed Match against Poverty. In October 2005, a few years before his UNDP appointment, he seized the occasion of the Elephants of La Cote d'Ivoire's qualification for the 2006 FIFA World Cup to request warring factions in the then politically unstable country to give up their weapons. This contributed to paving the way for a 2007 peace accord. Drogba had clearly used the power of football to influence the politics of power. As a testimony of his tremendous role outside football, in 2010, he was listed by Times Magazine among the 100 Most Influential people in the World. Extraordinary!
NGOs have also been making the most of the sport. For example, in 2011, NGO activists, educational campaigners and experts from 16 European and African countries came together in Prague, Czech Republic, for a Football for Development seminar to exchange views on how to link football with development, education and awareness-raising on the Millennium Development Goals (MDGs). Many other NGOs are entirely dedicated to the game. For instance, the United Nations Football Club (UNFC) is a non-profit charity whose mission is to deliver inspirational youth football programs centred on leadership and other important causes. Another example is Play Soccer, a non-profit football oriented international umbrella organisation which oversees an assemblage of legally-independent, national non-profit entities and empowers them to create low cost volunteer-driven programmes for vulnerable children and youths.
As secondary actors in international relations, while IGOs and especially NGOs aren't necessarily on the frontline of competing to achieve divergent political interests and goals, they remain key actors as they mainly strive to fill the gaps and address the challenges created by the primary actors – States. As a mass mobilising sport, football and its best stars therefore assist IGOs and NGOs in accomplishing their goals.
Football Arenas as Tactical Targets of International Terrorist Groups
Since the turn of the new millennium, the world has been witnessing the global spread of terrorism and violent extremism with groups such as al Qaeda having affiliates in the Arabian Peninsula and the so-called Islamic Maghreb (AQIM) and ISIS having networks like Boko Haram in parts of West Africa and Central Africa pledge allegiance to it. This excludes radicalised individuals who carry out attacks in the name of the larger factions. Against this backdrop, given that no region or continent of the world has been spared from the gruesome attacks of transnational terrorist organisations, they can't be ruled out as actors in international politics, regardless of their illegitimacy. This is especially because most definitions of terrorism acknowledge the political attribute of the phenomenon. For example, according to the United States Department of Defence, terrorism is "the calculated use of unlawful violence or threat of unlawful violence to inculcate fear; intended to coerce or to intimidate governments or societies in the pursuit of goals that are generally political, religious, or ideological."
As Bruce Schneier argues, terrorist groups normally prefer to attack soft targets, usually large, high-profile symbolic and recognizable groups of people around the world that will generate maximum media attention. Conscious of the popularity of the sport and its crowd-pulling effect, football grounds and actors – both fans and players, have therefore been the strategic targets of terrorists. Drawing inspiration from what has become known as the Black September or Munich massacre of 1972, where a group of Palestinian terrorists attacked the arena hosting the Olympic games, killing two Israeli athletes and taking nine others hostage (reported and broadcasted in real time), present-day terrorist groups are increasingly finding football stadiums, fans and teams as soft targets to attract their desired media attention. There are a couple of recent incidents worth noting.
In January 2010, the Togo national football team suffered a terrorist attack, while travelling by bus through the Angolan province of Cabinda, for the Africa Cup of Nations. The attack, carried out by Cabinda separatist group Frente para a Libertação does Enclave de Cabinda – FLEC (Front for the Liberation of the Enclave of Cabinda), left three members of the Togolese delegation dead and several others wounded. The dead included the assistant coach of the team, a sports commentator from Togolese State media and the bus driver.
In November 2015, in a series of coordinated attacks in which ISIS claimed responsibility, four died when suicide bombers struck outside the Stade de France in Saint-Denis, Paris, during a friendly pitting the French and German national sides, which former French President François Hollande was attending.
In December 2016, Kurdish militants claimed responsibility for a terrorist attack outside the Besiktas football stadium in Istanbul, Turkey. 38 people, including 30 police officers were reportedly killed in the blasts that also left about 155 wounded.
From Professional Football to Politics as a Profession: An Individual Perspective on the Politics of Football
Today, there are more and more cases where retired footballers have been cashing in on the fame and popularity they acquired in the course of their careers by effectively engaging in politics.
In Africa, Liberia's George Oppong Weah is the most high profile former footballer who has become an active politician to the extent of running for the office of President of the Republic. Since retiring from the sport, the only African winner of the FIFA World Player of the Year (1995) has been fully engaged in politics in his homeland. In the 2005 presidential election, the former player who enjoys the status of African player of the Century (1900 – 2000) unsuccessfully ran for office, losing to Eileen Johnson Sirleaf in the second round of voting, after giving her a run for her money during the first. In 2011, he still unsuccessfully ran for the post of vice president. Nevertheless, in 2014, he was elected Senator of the Montserrado County becoming the first Liberian international athlete to represent a county in the legislative arm of government. Till date, he remains one of the key leaders of the Congress for Democratic Change.
In December 2010, newly elected President of Guinea, Alpha Condé appointed former captain and head coach of the Sily National – Titti Camara Sports Minister, making him the State's first ex-sportsman and footballer to hold a cabinet position. Titti Camara went on to serve in government for two years thanks to his performance and stardom in the national football team from 1992 to 2004. His appointment came barely a year and a half after Captain Moussa Dadis Camara, the former President, publicly announced that he wanted the former him to manage the national team; yet another political intervention in football affairs. Though not originally a politician by profession, his appointment to a senior cabinet position meant he was effectively introduced into the realm of politics.
In 2000, Albert Roger Milla, whose achievements with the Indomitable Lions of Cameroon between  1973 to 1994 cannot be overemphasised, was appointed Roving Ambassador [with the rank of Minister] at the Presidency of the Republic of Cameroon, by President Paul Biya, as a political reward for his role in bringing international spotlight on Cameroon during his football career. He has been the first and only Cameroonian sportsman to occupy such a prestigious post. Although on low profile basis, the two-time African Player of the Year (1976 and 1990) has also been involved in party militancy in his native Douala III district, within the framework of the ruling Cameroon's People's Democratic Movement.
Théophile Abega, former captain of the Indomitable Lions, teammate of Roger Milla and 1984 African Player of the Year also went into politics following his retirement from professional football. In 2007, he was elected Mayor of the Yaoundé VI district, a post he occupied till the time of his death in 2012.
Other retired footballers have taken advantage of their networks, fame and popularity gained on account of their distinguished and illustrious careers to get into top levels of football governance, both nationally and internationally. Michel Platini of France and Kalusha Bwalya of Zambia are the most suitable examples. The former, who won the World Player of the Year award three times in a row (1983, 1984, 1985) occupied several high ranking positions within the ranks of UEFA and FIFA before serving as President of UEFA from 2007 to 2015. He went as far as announcing his intention to run for the 2016 FIFA presidential election before withdrawing from the contest. On his part, the immensely popular Kalusha Bwalya, the second most capped player in the history of the Chipolopolo who won the 1988 African Player of the Year award, served as President of the Football Association of Zambia (FAZ) from 2008 to 2016. While they can't be fully matched to their counterparts who took up politics as a profession, the process of getting to the helm of the FAs they governed is usually somewhat political.
Disclaimer: This article is not politically motivated. The views expressed in it are academically inspired, personal to the author and independent of his employer and this medium where it is published. The author regrets any unintended omissions or errors which may have been made in the course of writing the article.
About the author
The author is a Cameroonian diplomat by profession who is accredited by FIFA and the FIFA 2018 World Cup Local Organising Committee (LOC) to assist with the organisation of the ongoing FIFA 2017 Confederations Cup in Russia. An expert in peace, conflict and humanitarian affairs, he holds post-graduate degrees in international affairs with one in International Relations and Diplomacy from the International Relations Institute of Cameroon (IRIC). He has also received several international trainings in peace and conflict studies abroad. He holds a Bachelor's in Journalism and Mass Communication from the University of Buea.