Human Interest
Disappearance of Mgr Bala: Rescue Mission Continues, Fire Fighters Describe As Fake Social Media Photos
Bafia,Cameroon
Rescue mission to retrieve the body of His Lordship Jean-Marie Benoit Bala believed to have drowned in river Sanaga, have continued after fruitless search Thursday June 1, 2017.
Divers late Thursday plunged into the river by 4 pm but made a fruitless search.
The rescue team before Thursdays exercise, held a Press Conference to react on series of photos which went viral on social media showing some persons pulling a body out of water, presumed to be that of the Bishop.
The Brigade Commander of the Yaoundé Fire Fighting Unit, Francis Ekosso described it as fake; he said "There have been some pictures circulating on WhatsApp, Facebook and other social sites claiming that we have found the body. So far we have not found the Bishop."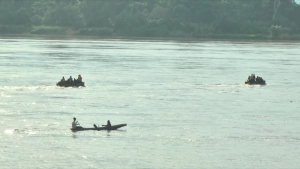 Divers say it usually takes three days maximum for a corpse to finally come up to sea level, thus there are high probabilities the body could be retrieve this Friday.
The President of the National Episcopal Conference, Archbishop Samuel Kleda had earlier dismissed claims that the Bishop was in water, "Till date we are not sure of anything, it is still unknown whether he is dead or not," he told reporters in Douala, Cameroons economic capital.
The residence of Bishop Jean-Marie Benoit Bala has been sealed as Christians multiply prayers for him.
The 58 year old went missing since Tuesday May 30, 2017.He reportedly left the Diocese around 11pm alone with his vehicle a white Prado CE 9503 V. His car was later found the next day with a note written, "Je suis dans l'eau" meaning "I am in water."