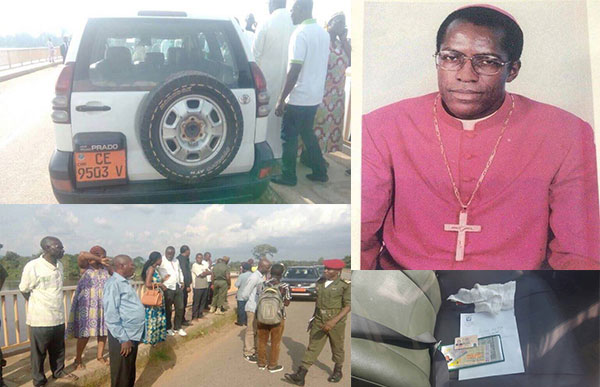 Yaounde,Cameroon-July 4,2017- 10:40 pm Local Time(Cameroon News Agency) The Attorney General at the Centre Court of Appeal Jean Fils Ntamak has revealed that the late Bishop of Bafia Diocese His Lordship Jean Marie Benoit Bala was probably not killed contrary to position of Catholic Bishops.
In a release made public Tuesday July 4, 2017 he stated that after thorough investigations carried out on the body of the Bishop who disappeared for three days before his body was found in the Sanaga River, it was concluded that he probably drowned in water.
He said medical and forensic experts sent by Interpol after working on the body concluded that there was no violence of any form on the body of the prelate.
The Attorney General said the body will be handed over to the Catholic Church for burial while investigations will continue. He did not specify the type of investigations that will be done without the body.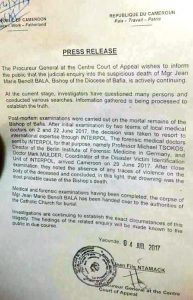 This outing comes to contradict that of Bishops of Cameroon who on June 14, 2017 declared that Bishop Bala was, "Brutally assassinated."
It also comes to contradict popular opinion which held that the Man of God was tortured on May 30, 2017 for several hours before being dumped in the Sanaga River.
However questions on the circumstances which led to his death, why his sandals were wrongly placed and why his stomach remained flat have not been answered.
The Catholic Church has not reacted.