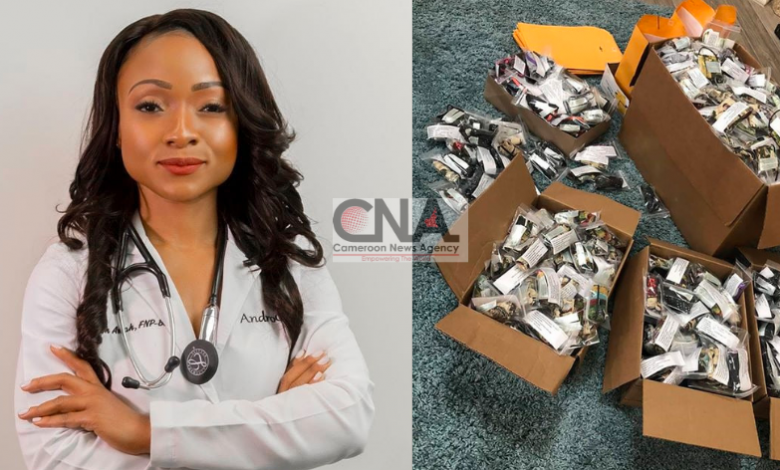 The US based Cameroonian born, has been at the forefront of the fight against the coronavirus, COVID-19, providing thousands with free facemasks on a daily basis. The philanthropist, healthcare worker and founder of the AndroGenX, an institution that deals in hormone replacement therapies, weight management, erectile dysfunction therapies and some primary care, launched the initiative "Free face mask-Free face covering for all" days after the pandemic hit the world. Her main goal is to reach out to communities where health workers are battling to save lives.
" Many people can attest that the COVID-19 pandemic has affected their lives in one way or the other. From lost loved ones to lost jobs; lost businesses, postponed graduation dates, postponed wedding ceremonies, etc. Our communities are affected; our world is affected. It will take a collective effort to put an end. Everybody can agree that "we all want our lives back" so we have to collectively implement the recommended measures to help put an end to this frenzy so we can all get our lives back." Ruth said.
Amazingly, the Facemasks are not bought from the Pharmacy or any local market, Ruth Awah and her team have taken the initiative to sew thousands of these masks and deliver for free to those in need. Everyone needs a facemask, and they are doing their best within their reach to be solution makers, "CDC now recommends the use of cloth face coverings when in public. In some States it is required for entry in to certain grocery stores. Our "Free face mask-Free face covering for all" campaign is still ongoing and will last as per our financial, physical and energetic capacity🙏🏽; my team and I are doing our best to meet the needs of all the requests that are being forwarded to us. Shipping and deliveries will be sent out as per availability." She told those expecting to benefit from her gesture.
Since the "Free face mask-Free face covering for all" campaign was launched, the team has received thousands of request, and they have also shipped thousands but they are conscious of the Social Distancing measures to limit the spread of the virus, "As a reminder, in observation of "Social Distancing, our contracted Courier Delivery Services are operating on a strict "No Physical Contact" basis. There will be no ringing of door bells; there will be no knocking on doors". It is recommended that you leave any packages from delivery services (UPS, USPS, The Awah's… etc) out in the sun for a while before pick up. Please be assured that we are taking all the sanitary measures to protect the community." She cautioned the beneficiaries.
The campaign, "Free face mask-Free face covering for all" is free but many goodwill persons have found the need to encourage more production through donations but the team has insisted that requesting for a mask is free and opened.
Facebook: Ruth Awah
Business Website: https://androgenxusa.com/?fbclid=IwAR3BIit9YPlWx181-Lfuxr-T1LmBjfxEECd8AhsBP2g7dN4yVZX7-1ICm4I
About:
AndroGenX is a center for Hormone Replacement Therapies, Weight Management, and Erectile Dysfunction therapies. Our center was formed on the foundation of patient care, and patient wellness. We are passionate about safely improving the quality of patients' lives. At AndroGenX, we look beyond the boundaries of "cookie cutter" medicine. We treat every individual uniquely; our dedicated providers are highly qualified, trained and experienced.
Our team consists of dedicated individuals who are kind, friendly, caring and energetic. We pride ourselves in the fact that most of our patients refer to our team as a family away from home.
 We are a "judgment free" zone and we are committed to making patients' visits as pleasant as possible while providing our services fast and efficiently.
If you have been experiencing fatigue, memory lapses/poor concentration, muscle depletion, lack of motivation, weight concerns, mood swings, erectile dysfunction/loss of morning erections or decrease in libido, look no further, give us a call, schedule an appointment to speak with one of our experienced providers and begin the journey to regaining your vitality.