Front page
Politics
CNA Politics: Lawyers Blast Atanga Nji Over Interference In Opposition Party Affairs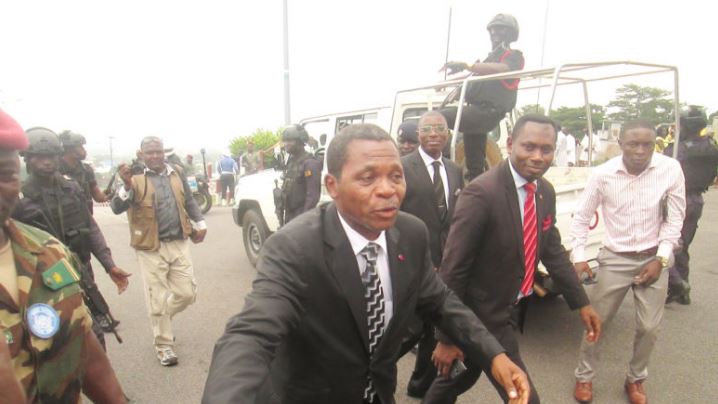 By Mimi MEFO Takambou
DOUALA, Cameroon-Thursday July 19, 2018-3:40 PM Local Time(Cameroon News Agency) Lawyers have chastised Territorial Administration Minister, Paul Atanga Nji over  his involvement into internal affairs of opposition political parties in Cameroon.
After Minister Atanga Nji issued a communiqué recognizing as Presidents three suspended members of opposition parties, this reporter sought the views of some legal minds who out rightly condemned the move, qualifying it as illegal. "I don't think it is legal, the Minister has nothing to do in the internal affairs of a political party. He is not the custodian of their articles of association or internal regulations except there is a formal complaint to that effect by a founding member of a party "He has acted ultra vires his powers, what the Frenchman will call 'excès de pouvoir'," Barrister Tamfu Richard said.
Barrister Bongam did not reserve kind words for the Minister:, "Atanga Nji to me is wrong, he does not have the right to mingle into the internal affairs of a political party. He is not a member of these parties and the said political parties have their Constitutions and by law which provide the method and or procedure to become a member and how or who represents the parties. He is a persona non grata and cannot get up one day and decide to appoint people and say they represent political parties. He does this in what capacity? I have the impression that he is out to put President Biya and his government into serious chaos. "This is a foolish move; it is not legal at all. It's in violation of the laws on liberty of association and political parties. He is not a member of the parties and so cannot do what he did yesterday."
On his part, Barrister Ashu Agbor, President of Cameroon Reformation Party, said "Political leaders are elected or appointed by the organs of the party. No member of Government can appoint the leader of a political party. The Minister in charge of Territorial Administration can only take judicial notice of changes within party hierarchy notified him by way of decisions taken by competent party organs. Infighting within party members can be resolved either by competent party organs or by the law courts. In no case is the Minister empowered to decide for the party" "Mimi, it is not an appointment as such, it is a confirmation of the legal representatives of the said political parties. Minister ATANGA NJI is very correct in this perspective, because no other individual or group of individuals should be authorized to sow seeds of discord within the aforementioned political parties at this crucial moment. You know, each political party or political parties that are duly recognized are supposed to submit a list of their legal representatives. Even when elections have been conducted and new executives sworn in or members suspended, the names of such representatives are supposed to be forwarded to the Minister of Territorial Administration," he concluded.
According to Barrister Watson, the sidelined leaders of the MANIDEM, UPC and CPP parties can write to the Minister of Territorial Administration to revoke the decision. If the ministry fails to respond in 90days, the case can be taken to the administrative court or the constitutional council.