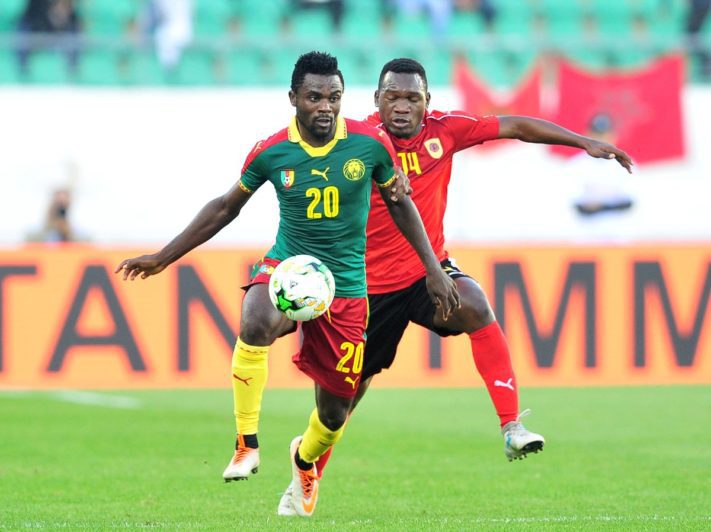 By ANGU Lesley
Tiko, Cameroon-Sunday January 21,2018-12:00 PM Local Time (Cameroon News Agency) It has been a disappointing tournament  for the boys of Rigobert Song, after months of preparing for the 2018 African Nations Championship, CHAN, the boys coached by the former Captain of the Indomitable Lions have suffered two defeats in two outings in Morocco.
After goalkeeper Jean Oscar Kalati Gwot (Best goalkeeper for the 2017 League One season) gave away a penalty in the team's first game against Congo, which was converted to  Congo's only goal in a game of missed  chances, on Saturday evening, Owundi Eko'o Bertrand(Captain of Astres of Douala) gave away a penalty  in the first half which was converted to a goal by Angola's captain Ricardo Job Estevao to give Angola a one nil win over Cameroon.
With two defeats in two games, captain Junior Awono and his mates have now put up Cameroon's worst ever participation record in the CHAN, bowing out of the tournament before the quarter finals stage of the competition.
Cameroon's least achievement in her previous two participation in this 9 year old tournament has been the quarter finals qualification.
Many pundits have questioned the coach's decision to drop the likes of Rene Ndi,Ngome Etame,Armel Ngondji from the tournament's squad while others have questioned Song's lack of trust for last season's elite one top scorer Francis Elimbi who is still to start a game in the tournament.
Cameroon still have a formality game to observe against Burkina Faso before returning home after Song's disappointing audition tournament in Morocco, a bad start for a football year 2018.
*akonlesna@yahoo.com.*