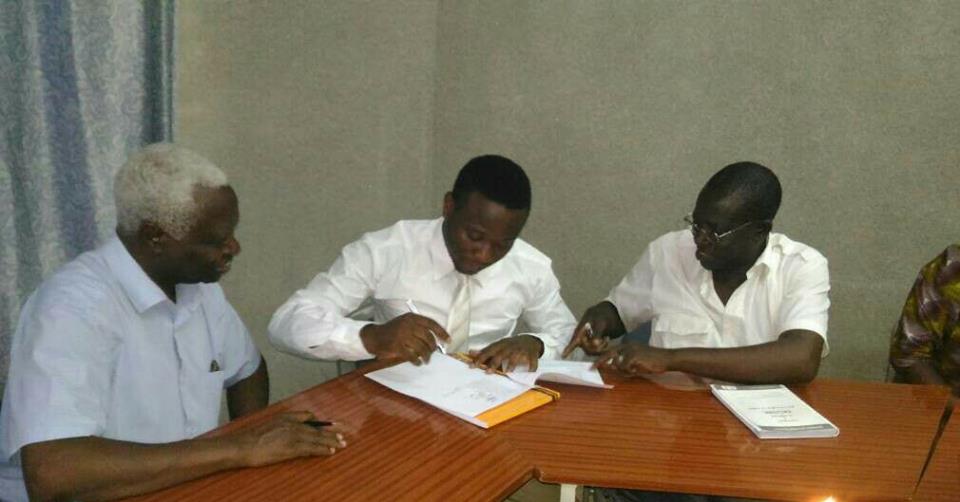 Cameroons Diplomacy takes another dimension with young diplomat grabbing the bulls by the horns especially to tackle challenges faced by most Africa countries. That is why on Monday July 24, 2017 in Ougadougou, Burkina Faso, Cameroonian diplomat / peace and development activist, Tayimlong Robert Afuh co-founded the Pan African Union of Peace builders – an international non-profit, non-governmental organisation aimed at developing and strengthening synergy between peace builders in Africa and around the world; promoting the culture of peace in Africa and its Diasporas; preventing, managing and transforming conflicts in different spheres of social, cultural, economic and political life and lastly, building the capacities of individuals and organisations engaged in peacebuilding.
Bound by a common and specific set of values and approaches to peace, the Pan African Union of Peacebuilders is a network of over 300 nationals, young and old, from 29 African countries currently engaged in community based peacebuilding, civic mediation, social negotiation, peace research and informing government policies on the promotion and consolidation of peace and social cohesion.
Its membership include among others Laurien Ntezimana, Alexis Rusine, Pélage Uwimana and Servil Omar Ntagengwa – Rwandan Hutu and Tutsi survivors of the 1994 genocide who have been engaged in building peace via civil society organisations at home, in neighbouring Burundi and in the Democratic Republic of Congo; Sylvain Koffi Aimé and Angèle Oulai – Ivorian brokers of a peace deal between Séléka and anti-Balaka militias in the Central African Republic in the course of implementing an INOVAR (Active and Rapid Non-violent Intervention) project; Arnaud Yaliki – a 29-year-old Law lecturer at the University of Bangui and PhD researcher on transitional justice who was appointed by the influential Archbishop of Bangui to serve as Permanent Secretary of the Platform for Religious Confessions in the Central African Republic; Patrick Cibangu – a DR Congo expert in good governance who is integrating peace approaches to civil society engagements in the late Étienne Tshisekedi's opposition stronghold of Kasaï-Oriental Province; Salomon Kambou, a Burkinabé civil administrator informing government policy on peace and David Haranga, a Cameroonian agro-engineer contributing to manage farmer-grazier conflicts for Caritas Internationalis and the Peace and Justice Commission of the Yagoua Diocese in the Far North region of Cameroon.
Its membership also includes non-Africans who have lived and worked in Africa for decades, thereby sharing the vision of panafricanism. Germany's Hubert Heindl, founder and director of the University of Peace in Africa (UPA); Susanne Schweigel, an expert in non-violent communication and Christina Lengsfeld are cases in point.
In the Anchoring Committee of the union, Tayimlong has been designated to serve as International Affairs Coordinator and Focal Point of the Committee to the temporal guarantor the headquarters of the union in Bafoussam, Cameroon.
Robert Tayimlong Afuh is a Foreign Affairs Officer, serving in the Department of African Affairs of Cameroon's Ministry of External Relations since January 2014. In November 2016, he served as Humanitarian Affairs and Peacebuilding Consultant for the National Emergency Management Agency (NEMA) of the Federal Republic of Nigeria on the situation of internally displaced persons (IDPs) in Borno and Adamawa States in the context of the Boko Haram insurgency. At NEMA, as part of efforts to address the root causes of displacement and the phenomenon of IDPs, he advocated for the promotion of peacebuilding and the countering radicalisation and violent extremism (CVE) in IDP camps. According to him, in a training of trainers' perspective, NEMA could work with the Nigerian Institute for Peace and Conflict Resolution (IPCR) also known as the National Peace Academy to train qualified camp managers, competent IDPs and representatives of host communities in the areas of peacebuilding and countering radicalisation and violent extremism of IDPs. In his view, due to their displacement and loss of the livelihoods enjoyed before displacement, IDPs, especially those of the younger generation are vulnerable to radicalisation and even recruitment into militias and extremist groups in the likes of Boko Haram. He therefore suggested that to ensure the effectiveness of peacebuilding campaigns, recreational and sporting activities and events should be used to pass important messages to IDPs. He also proposed the creation of peacebuilding clubs in secondary schools and colleges and the introduction of peace education to enable students have platforms to discuss how they can contribute to the peace process in Nigeria. He argued that such a measure would ensure that kids grow up in the culture of peace, tolerance, hospitality, goodwill, acceptance of diversity and spirit of mutual co-existence.
Tayimlong has also been advising non-governmental organisations (NGOs) in Cameroon in a similar capacity. In addition, he has had internship stints at the embassies of the Republic of Cameroon in Berlin, Federal Republic of Germany in 2011 and Madrid, Kingdom of Spain in 2012 as well as at the African Court on Human and Peoples' Rights in Arusha, United Republic of Tanzania in 2016. In June 2017, he was the only African accredited by the FIFA Volunteer Programme to assist in the organisation of the 2017 FIFA Confederations Cup in Sochi, Russia. His contribution to the tournament was officially acknowledged by the Deputy Prime Minister of Russia, H.E. Vitaly Leontiyevich Mutko.
He holds two Master's degrees – International Relations and Diplomacy obtained from the International Relations Institute of Cameroon (IRIC) in 2013 as well as International Cooperation, Humanitarian Action and Sustainable Development obtained from IRIC in partnership with Ca' Foscari University of Venice, Italy in 2015. Before then, he obtained a Bachelor's degree in Journalism and Mass Communication from the University of Buea in 2010. During this period, he was elected 15th President of the Association of Student Journalists (ASJUB) in 2009, a post he held for one year, doubling as the Association's delegate at the University's Students' Representative Council (UBSRC). Tayimlong's areas of expertise include Diplomacy and Development Cooperation; Conflict Analysis, Management and Resolution; Responsibility to Protect (R2P); Multidimensional Peace Operations; Disaster Risk Reduction and Management; Humanitarian Action; Urban Emergency Response; Protection of Refugees and Internally Displaced Persons (IDPs); Political Communication and Performance Management.
In these areas of expertise, he has taken several internationally accredited trainings in Cameroon and abroad including from Harvard University of Cambridge – Massachusetts, United States of America; International Institute of Human Rights of Strasbourg, France; International Management Institute (IMI) of New Delhi, India; Kofi Annan International Peacekeeping Training Centre (KAIPTC) of Accra, Ghana; Alioune Blondin Beye Peacekeeping School (EMP) of Bamako, Mali; the University of Peace in Africa (UPA – 2017 Campus) of Ouagadougou, Burkina Faso and the Centre for Human Rights of the University of Pretoria, South Africa.
He is author of CAR Refugees and Host Communities in the East Region of Cameroon published in 2016 by LAM and available for sale on amazon.com. He is also currently writing an autobiography and motivational book titled The Accolade of Optimism.
Tayimlong has attended and made contributions to several international conferences, forums and seminars including the Fourth World Conference on Humanitarian Studies (WCHS) of March 2016 in Addis Ababa, Ethiopia; the seminar on "After Obama: Challenges facing Peace and Justice in the United States of America and Abroad," of June 2016 in Cambridge – Massachusetts, United States of America; the World Bank Global Youth Forum and Future of Peace Summit of June 2016 in Washington, DC, United States of America; and the International Young Leaders Assembly (IYLA) of August 2016 at the United Nations headquarters in New York, United States of America.
He is member of the International Humanitarian Studies Association (IHSA), Pan-African Union of Peacebuilders (UPABP), Global Development Youth Leaders and Cameroon Ministry of External Relations Staff Association (DIPLOCAMU).
By mid 2017, Tayimlong's professional, academic and personal engagements had taken him to a total of 17 countries across four continents.