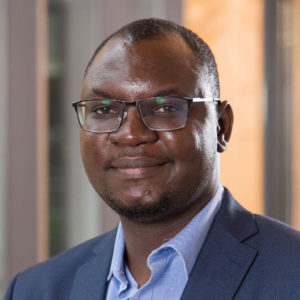 By Paul Timah
The handling of COVID-19 in Cameroon has largely been politicized to the detriment of the most vulnerable persons. The government and some opposition parties are increasingly turning to the traditional and social media to reproach the efforts of each other. Taking a step away from this politics, some largely neglected social protection measures that could be crucial in the country's fight against COVID-19 would be advanced. The International Monetary Fund (IMF) defines social protection as "the set of policies and programmes designed to reduce and prevent poverty and vulnerability throughout the life cycle". It goes further to state that social protection includes child and family benefits, maternity protection, unemployment support, employment injury benefits, sickness benefits, health protection, old-age benefits, disability benefits and survivors' benefits. There is no doubt that some of the COVID-19 policy measures that are being implemented will disadvantage the most vulnerable segments of the population through lost earnings or increased expenditures.
The country's very weak social protection system has further compounded these vulnerabilities. The success of some of the COVID-19 policy measures implemented so far depends largely on the public's respect of the measures. However, the sustainability of the impacts of the measures is questionable amidst the prevailing vulnerabilities, given that majority Cameroonians, especially those in the informal sector, will have to decide to either respect the measures and endure hunger and starvation or defy the measures in the search of daily bread. If the existing social protection system within the country was adequate, the latter option will not be an alternative for any Cameroonian. More so, current COVID-19 policy measures are already creating vulnerabilities for more and more people as livelihoods have been negatively affected.
Why is confinement or a would be lock down be problematic?
According to the International Labour Organization (ILO), the current social protection system in Cameroon is mainly provided through the Civil Service and the National Social Insurance Fund (NSIF). The NSIF provides most of the ILO recommended benefits except for unemployment insurance (which is crucial in this case) and sick benefits. This is compounded by the fact that about 90 percent of Cameroon's active labour force operates in the informal sector and can not access these benefits. This statistic compares less favourably with the global and continental averages as shown in the figure below.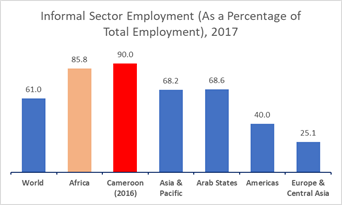 Moreover, only 2 percent of the informal sector workforce was offered protection by the NSIF scheme in 2016. This implies that about 88 percent of the active labour force in Cameroon do not have any form of social protection and this has serious repercussions for the country's fight against COVID-19. Those involved in the informal sector include farmers, motor-taxi (benskin) riders, food retailers (buyam sellam), general laborers and many others who rely on their daily earnings for survival. Confinement and lock down would mean increased vulnerabilities for those in the informal sector as they would suffer wage losses. Without any corresponding social protection measure, it is difficult to imagine how these vulnerable persons would respect any prescribed confinement or lockdown measures.
What has been done in Cameroon?
So far, the COVID-19 policy measures formulated and implemented by the government have not incorporated any concrete social protection measures. On the contrary, Cameroonians who do not comply with the mandatory use of protective masks in public places are being levied 6,000 XAF for non possession and 2,000 XAF for possession but non-use. This will, without a doubt, exacerbate the vulnerabilities of the poorest, leaving them at the mercy of unscrupulous police officers who are always looking for any means to extract money from citizens. The viral video of an uprising musician (Grand Barack) on social media wherein he was being brutalized by a police officer for not putting on a mask, whereas there were other persons in the scene not wearing masks, is clear evidence that police officers will not hesitate to engage in malpractices in enforcing the compulsory use of masks in public spaces. It is important to note that most vulnerable persons (those living below the $1.90 per day poverty line) in Cameroon will find it difficult to regularly afford protective masks which are estimated to cost about 200 to 500 XAF (US$ 0.33 to 0.82) per piece. If this mandatory use of mask policy measure was grounded in a social protection approach, the government would have thought of providing free masks to the most vulnerable segments of the population.
 As a renewed effort, on April 20, 2020 the government decided to offer 1,500,000 masks to the 360 municipal councils within the country. While this is a laudable action, these masks would serve only an estimated 6.25 percent of the population and given the poverty rate ($1.90 line) of about 23.8 percent, it is left to be seen how the over 17 percent of the most vulnerable would be able to afford a mask on a regular basis. On April 16, 2020, the Minister of Public Health instructed all regional public health delegates, heads of public health facilities and public medical laboratories to ensure that no one is charged for COVID-19 tests and treatment. Although this is a welcome social protection measure, it is quite disturbing to note that patients were still being charged for such services as of April 16, 2020. Such practices only go a long way to compound already existing vulnerabilities.
What is being done elsewhere?
Across the globe, like-minded governments such as those of the United States, Canada etc. are putting in place massive stimulus packages to ensure cash transfers to individuals affected financially by COVID-19. However, given the differences in the macroeconomic outlook of these countries compared to Cameroon, it is crucial to make a comparison with Cote d'Ivoire which has a commensurate macroeconomic outlook. The figure below compares both countries across four key indicators (gross domestic product (GDP), GDP per capita, general government gross debt to GDP ratio, and population).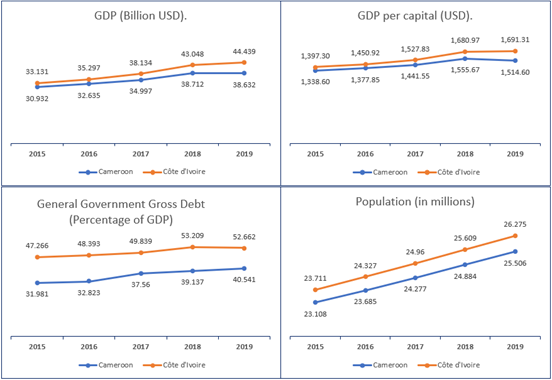 It is interesting to note that till date, Cameroon has registered 1,163 COVID-19 cases against 43 deaths and 329 recoveries whereas Cote d'Ivoire has registered 916 cases against 13 deaths and 303 recoveries. Although Cote d'Ivoire is slightly trailing behind Cameroon in terms of cases and fatalities, it has implemented remarkable and well-targeted social protection measures than Cameroon. Among others, the government of Cote d'Ivoire has established a solidarity fund amounting to 170 billion XOF (2.11 percent of the country's 2020 budget) to fund the most vulnerable populations within the framework of its emergency humanitarian support, strengthened the price controls of consumer goods and applying sanctions to offenders, suspended the payment of electricity and water bills for the months of April and May 2020 and postponed the deadlines for the payment of electricity and water bills from April to July 2020 and May to August 2020 respectively.
Cameroon has so far created a solidarity fund with an initial amount of 1 billion XAF (just about 0.02 percent of the country's 2020 budget) and an additional amount of 2 billion XAF, meant to support municipal councils. It should be noted that all these funds only amount to about 0.06 percent of the 2020 state budget and it is abundantly clear that less than half of the funds would be directed towards social protection initiatives that will directly benefit the population. Although both countries have almost the same number of COVID-19 cases, it is worth mentioning that Cote d'Ivoire (which has relatively fewer cases than Cameroon) has committed significantly more financial resources than Cameroon. The financial comparisons made here clearly indicate deeper governance challenges for Cameroon and its spending priorities. However, as seen in Cote d'Ivoire and elsewhere, most national governments are reprioritizing expenditures towards fighting COVID-19, with corresponding social protection measures. Cameroon should not be an exception.
What must Cameroon do now?
It was interesting to hear Maître Emmanuel Pensy (a central bureau member of the ruling CPDM party) echo on Equinoxe TV's Droit de Reponse program on April 12, 2020 that "Le chômage et la misère va tuer 100 fois plus que COVID-19…" (unemployment and misery will kill 100 times more than COVID-19) . He went further to call on the government to implement radical measures such as those implemented in Cote d'Ivoire if the government is serious about fighting the spread of COVID-19. This utterance coming from the heavyweight of the governing party is quite welcomed, but what was expected of him is when the government would take such radical social protection measures. That said, here below are the public's expectations and some measures the government must take among others.
The government should come up with a holistic social protection approach for the most vulnerable persons and an effective targeting mechanism that clearly spells out how much funds are made available and eligibility requirements. The government can resort to the last national household survey results and geographic targeting for effective targeting. As a guide, an estimated 44 billion XAF per month would be needed to provide social protection to the poorest households in Cameroon during this COVID-19 times. This estimation is presented in the table below.
The government should make monthly cash transfers equal to the minimum monthly wage of 36,270 XAF to persons employed in the former sector who have lost their employment or have seen their employment suspended or greatly impacted by COVID-19. Households which have at least one member still in employment and earning above the minimum wage should be exempted.
The government should ease the financial burdens and hardships imposed by COVID-19 on households by suspending the payment of rents for the months of April, May and June 2020 or until such time that economic activities can return to normal, and put in place a six months payment plan for the accrued rents. It should also make it possible for individuals to apply for financial support if they can show that paying the accrued rents will cause them untold hardship. Additionally, the government should make water and electricity free for all households, especially the most vulnerable ones, for the months of April, May and June 2020.
The government should increase subsidies on basic consumer goods and ensure effective price controls to prevent consumer abuse. Food banks could equally be created to collect and donate food to the most vulnerable households during these COVID-19 times.
The government should immediately stop to charge citizens who violate the use of protective masks in public place and rather focus on providing free masks to the population.
The government must ensure that all screening of suspected COVID-19 cases and the treatment of cases are done free of any costs to the patients by putting in place a dedicated whistleblower or hotline that the public can call to make complaints of patient extortion. The hotline team should be manned by proactive enforcement agents who must investigate or intervene on all complaints within 24 hours.
The government should adopt a non-partisan approach which brings together members of the business community, civil society and opposition parties to proactively implement COVID-19 social protection measures and other measures taken so far. The government must take the lead in ending the politicization of COVID-19 by creating an inclusive solidarity committee that includes the above-mentioned actors.

Implementing the above-mentioned social protection measures will reduce vulnerabilities, reinforce confinement efforts, toughen the resilience to COVID-19 and thus flatten the curve of new infections and deaths. Stay safe folks!