Front page
Human Interest
Cameroon Anglophone Crisis:  Women In Lebialem Caught In Crossfire, Suffer Untold Hardship, Deliver Babies At Home And Bushes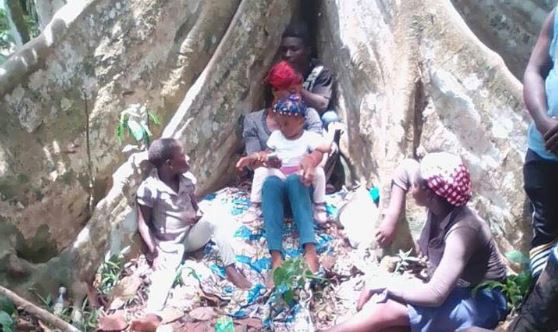 By Mimi Mefo TAKAMBOU
CNA Exclusive
LEBIALEM, South West-Sunday August 5, 2018-11:30 AM Local Time (Cameroon News Agency) Bushes and private homes have become maternities for women in Lebialem ,  South West Region.
The condition in which they deliver babies is precarious and the chances of survival of the mother and babies are extremely slim.
A woman revealed the genesis of the problem "The military went on to harass staff in the few health units in Lebialem for accepting to treat all patients irrespective. As I speak to you now, the health units at Ndungated, Menji, Azi and Lewoh have been abandoned. The military harassment forced the Nurses and Doctors to run away. We now give birth in the Bush. No antenatal, no vaccines, no hospital. As I write we cannot seek medical services in the West region".
The neighboring West region of Cameroon via Menoua, should have been an alternative for these women in desperation. But it is a no go area for them not even for traders, buyers or those seeking safer places to stay.
A victim tells CNA, "As I speak all markets in Lebialem are closed down since military harassment started in the Division in March 2018. Our parents can't buy basic needs. The only shop operating in Lebialem is owned by a business man who is not native in the area ( a beti boy from Centre region). He is the only one allowed by the military to move to Dschang to buy food and the military protects him. He sells a packet of maggi for 1500 FRS. The Military has consistently arrested many denizens who braved the odds to use alternative roads to go to Dschang to buy basic food stuffs. They are set free only after paying ransoms ranging from FCFA 500,000 to 1 million. If you are mistakenly caught with a bag of rice, you will be called terrorist or their food provider. And you only have to pay to regain your freedom. Recently, the military has made it known to all,  that Lebialem political elites have advised them to block all roads so that the Red Dragons, pro-independence fighters do not have access to anything. But it is the entire population which suffers".
Another local told me in anonymity. We can however not verify the fact that up to millions are paid to grant bail. Lebialem has been in the dark for weeks and the people's right to electricity denied them without justifications. "The entire Fontem subdivision and parts of Alou subdivision have been cut off power since the month of March, how we cope as business men is a mystery. We can barely survive"…. another source (business man) testified.
The people of Lebialem and Manyu Divisions, all in the South West are some of the hardest hit localities in Anglophone Cameroon since the socio political unrest escalated. The people especially women are deprived of electricity, medicare , food and to escape from the troubled division is now a suicide mission.
"Pa Fofang of Lewoh died in the house a few months back because there was no hospital to take him to and no one would dare try to move him out of Lebialem through Menoua as no hospital is functioning here. Mary Health of African Hospital is virtually closed down when the Cameroonian military shot and killed a nurse working there some months back. As I speak to you, anybody who gets sick is doomed. Worse, all tradipractioners (who could be another option for patients) are on the run as they have become the target of the military who accused them of preparing charms for "Amba boys". One of the tradipractioners Forchiembin was arrested and is now in detention in Yaoundé alongside 6 others including women (a certain Aboshuo Gladys)" a source revealed.
Hundreds of Lebialem residents are now in bushes, in Nigeria or in other safer towns within the region. As the crisis deepens, the fate of those in the area is uncertain.
But the Government is bent on pushing ahead with the 22 years old decentralization process which has undoubtedly failed.
(File picture)