Human Interest
Cameroon-Anglophone Crisis: Anglophone Detainee Collapses As Case Is Adjourned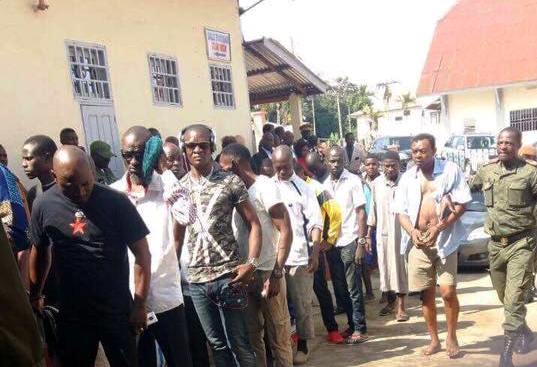 Yaounde,Cameroon
Home! Home! The Anglophone detainees sang as they climbed their vehicle back to prison. There will be no provisional freedom,not even for Barrister Agbor.
The Presiding Judge Mbezoa Abega, has just decided that the crimes committed by the detained does not warrant a provisional bail not even under judicial supervision,citing article 246 of the Penal Code.
Julius Ndassi,presented as an epileptic patient collapses as the Judge made the pronouncement.The case has just been adjourned to June 29,2017. On that day , all other cases will be heard. It will be the time to start the real court case against tens of those arrested.
The atmosphere in Yaounde Wednesday was moody,people who came to witness the hearing dragged their feet back home,lawyers were disappointed.
Earlier Mancho Bibixy had crawled into the court room on his buttocks ,he came bare feet ,wearing a short trouser ,a short sleeve unbuttoned blue shirt. Mancho Bibixy looked shabby in his hunger strike which began last Sunday.
Attention is now directed at the Higher Judicial Council which meets today.