Front page
Politics
Cameroon 2018 Presidential Elections: CPDM's 'Natural' Candidate, Paul Biya Deposits Candidacy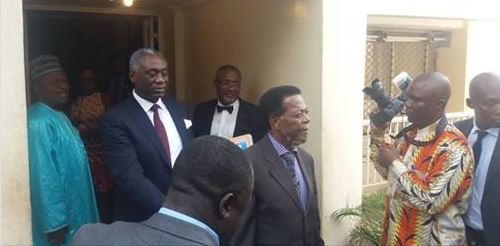 YAOUNDE,Cameroon-Friday July 13, 2018-8:30 PM Local Time (Cameroon News Agency) The Secretary General of the ruling Cameroon People's Democratic Movement, CPDM, Jean Nkuete, has deposited the file of the party's National Chairman, Paul Biya, at the office of Elections Cameroon ahead of the 2018 Presidential elections.
Paul Biya, represented by Mr Nkuete was the third to deposit his candidacy in front of curious onlookers.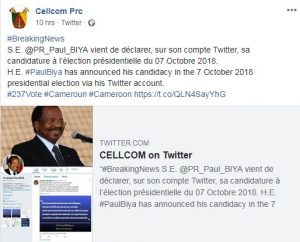 Since President Paul Biya made a speech calling youths the Android Generation, he has since then fallen in love with the Android world.He has been present on social media more than ever before.
Today, he used same medium to announce his candidacy for the 2018 Presidential Elections.President Biya says the call was massive from Diaspora to Home, so he had no choice than to heed to the people's call.
He took everyone by surprise at the time when speculation were rife that Peter Mafany Musonge, Philemon Yang or Rene Sadi would be the party's candidate.
Social Media Reactions: