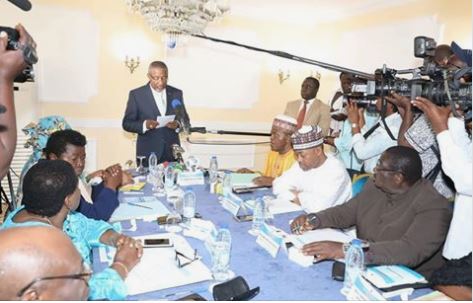 DOUALA,Cameroon-Sunday July 22, 2018-12:29 PM Local Time(Cameroon News Agency) A total of 28 persons have deposited their candidacies for the upcoming October 7, 2018 Presidential Polls, Elections Cameroon has revealed.
Incumbent Paul Biya, will have to face 27 candidates to retain his seat at the Presidency. But this figure could likely be reduced after Elecam must have scrutinized the files. Members of the Board of Directors have held their first meeting on last Friday.
Esambe Livinus Njume , a concerned Cameroonian has asked  Elecam how the elections will be organized in restive Anglophone regions, he said, "Permit me ask some stupid questions. How many of these candidates have an Anglophone background? What security measures are put in place to handle election in war zones? Are we going to meet voters in their bushes and refugee camps in Nigeria during campaign? How many of the twenty eight are women? Those fleeing from war zones, does it implies they did not register? And if indeed they registered, what becomes of their status during elections? Will they leave refugee camps and bushes to come and vote, then they return to their destinations? Oh, have I forgotten that we are at ' advanced democracy"
Some 20 other political party leaders have given their unflinching support to Paul Biya, amongst them, handpicked leaders of CPP, Manidem and UPC . The party of Edith Kahbang Walla has described the decision of Territorial Administration Minister, Paul Atanga Nji, as null and void. Kah Walla said he has no power to meddle into the internal affairs of the party.
The 28 Candidates