Front page
Society
Bamenda Commercial Bikers Send Distress Calls As Bikes Are Impounded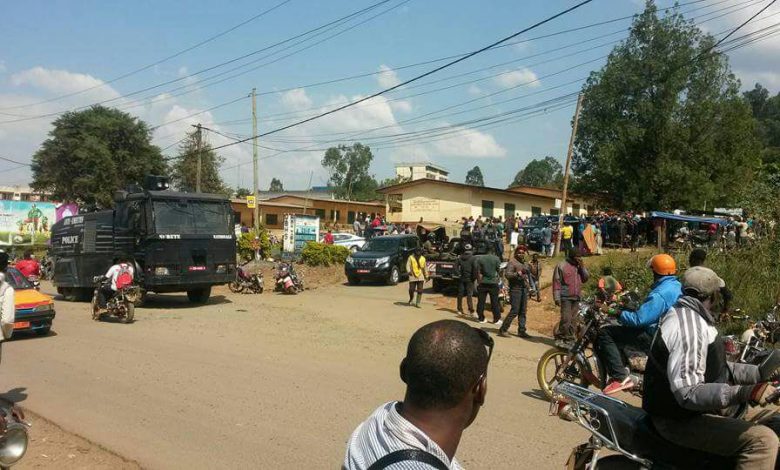 After an order from the North-West Governor restricting motor bikes from operating within Bamenda town between 6.PM and 6.AM, security forces have now engaged on a massive seizure of motor bikes across the town every day as from 6PM. Mostly disguised in civilian attire, gendarmes, police storm commercial motor bike parks and stream sides where some bikers wash their bikes and seized the bikes. Within two or three days, hundreds of bikes have been seized and taken to Up Station where they are impounded. Some are allegedly taken out of the region for personal gains.
Speaking to a group of agitated bikers whose bikes where seized in Mile 4, they told CNA that they followed their bikes to Up Station but were told to return for collection on April 15. They equally revealed that there are plans to identify the seized bikes with numbers and jackets by force. This will entail that a biker will be allowed to collect the bike only if it has been identified.
However, there are fears that the bikes may never be returned or they may lose identity of their bikes due to the fact that the hundreds of bikes seized are packed at random and without identification. Last month the governor accused commercial motor bike riders in Bamenda for coniving or partnering with those he termed "terrorists" to wreck harvoc in town.
An anonymous letter sent to CNA
"Good evening Sir/Madam, Communication may help prevent conflicts and violent extremism. Aside the socio-political crises in the North West and the Corona virus, a third conflict is being fabricated by the council authorities and the forces of law and order.
Hope MINAT boss will take responsibility when the time comes as well? Something is happening in Bamenda that is terrible and people are angry and the days ahead maybe dark.
Can you imagine that MINAT boss claims he wants to put order in the motor bike sector and also stop non-state armed actors from using motorbikes by compelling all bike owners to paint them yellow with each and everyone possessing all the necessary documents such that when a crime is committed using a bike, it could be identified easily for sanctioning.
It's almost a month or more that he claimed that the deadline is over and so there has been a systematic seizure of bikes by a mixed patrol ( police , gendarmes and even the army can you imagine that???). The most curious thing is that those bikes are not taken to the city council as usual but rather to upstation.
When you go there to regularize your situation , you are sent back to the council to pay 25,000 francs plus other documents including a driving license category "A". "Most of us "a young man I couldn't identify lamented that "big brother I have passed through hell. I was tortured bike seized and I completed everything went to upstation for my bike and I couldn't find it and no body is ready to attend to me.
I finally discovered that the military is impounding bikes and taking them out of the region and selling them and distributing some to their relatives.
I was working the Anglophone crises caused me to lost my job, I took a loan and bought a bike and refused a juicy offer made to me to pick up arms , now Corona virus is another crises that has come and people have been advised to stay home and everyone has been struggling to gather food for confinement.
Now the military seized my bike to go and enrich themselves and their people. If it is not an attempt to kill all Anglophones and their economy and occupy their land, why then , such wickedness , will anyone blame me now from getting into the bush?? I can't make the second mistake again. The military and the council would hear my response if I don't get my bike.
Two trucks of bikes I was called from Santa by a passer-by were spotted this week heading towards Mbouda.
Military action and continuous exploitation is not the solution . A revolution is underway from all I gathered different from all others. A stitch in time saves nine"