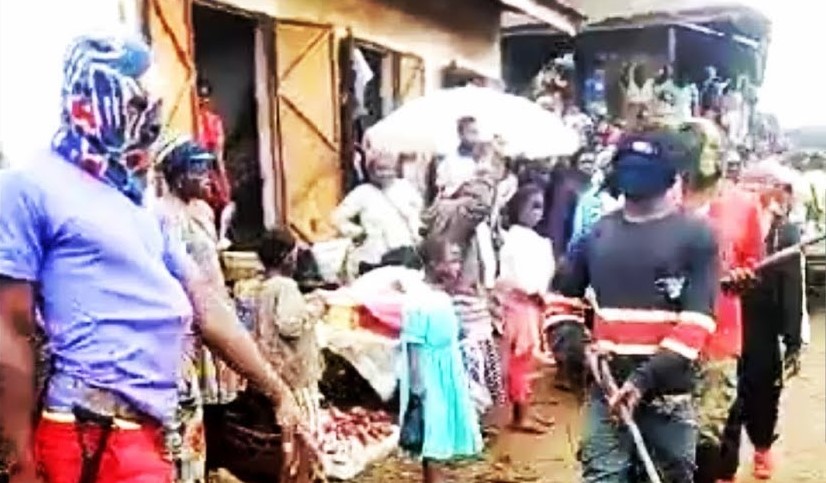 A witness who has pleaded not to be disclosed has said the Ambazonia fighters who lost their lives Friday December  14, 2018 around the Guzang market in Batibo subdivision, North West region, were  attacked by other fighters, Amabazonia Defense Forces,  from a different camp. The spokesman of the ADF, Tapang Ivo had earlier claimed the fighters were killed by Cameroon soldiers but CNA has gathered that it was an in-house fighting that got it's roots months ago.
WITNESS: I was in Guzang market when the fierce gun Battle between the two amba groups started. Here is the authentic account of what transpired. 8 people died , those five guys are fighters from Njinyen camp, while the ADF, lose 3 making a total of 8 deaths.
CNA: But how come we see the bodies beside houses when fighters have camps; Who transported the bodies there?
WITNESS: The fight took place around Guzang market not in a camp. Everyone in Guzang market fled to the bushes and left their products in the market.
CNA: Tell me, what really happened, who attacked who, because there are many versions of the story.
WITNESS: These two camps have had a couple of problems which led to the gun battle, ADF attacked the other of general Tiger popularly known as Njinyen boys.
CNA: You claim that 3 ADF fighters were killed how come we see only 5 bodies?
WITNESS: The ADF carried away their deceased . This guy ( picture sent to me as seen below) belongs to ADF his name is Birdman , a commander of general Ivo. Birdman hails from Enyoh in Batibo.
CNA: I was told that after that incident, Soldiers came to Guzang around 3: 30 PM, is this true?
WITNESS: I also learned so but can't independently say yes because we all fled to the bushes.
CNA: Thanks for taking your time while in the bush to reach out to me.
WITNESS: I met two of ADF fighters who said they will go back for a "return match".
CNA: Meaning there will be another fight?
WITNESS: Its a long story, let me send you voice note……
End…
Interviewed by Nfor Hanson Nchanji