Front page
Sports
AFCON 2019: After Withdrawal, CAF Is Ready To Face Cameroon In Court-Ahmad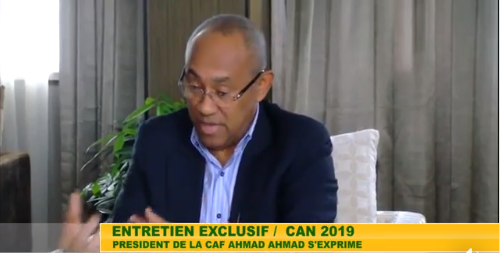 CAF President Ahmad says the African Football Federation is ready to appear at the Court of Arbitration for Sports, CAS, if the Cameroon government drags the body to court for withdrawing AFCON hosting rights.
He made the statements in an interview over Afrique Media Television Monday December 3, 2018, responding to a question from the interviewer whether CAF is ready to go to court if Cameroon does so. Mr Ahmad said Cameroon should look at article 35 and 92 of the body which specifies procedures to grant a country rights to host a competition.
He further said, CAS would have found CAF guilty if the executive body had given Cameroon the okay. 
To Ahmad, CAF was trying to avoid another Cabinda Incident( 2010 AFCON in Angola where Togolese team was attacked) He said Cameroon was not ready both in the infrastructure and security domains.
According to the CAF boss, Cameroon will host 2021 AFCON while Cote D'Ivoire will host that of 2023. He says the latter is not even ready for the 2021 event.
The Cameroon government has not clearly stated whether she was going to drag CAF to the Court of Arbitration for Sports, CAS. But Communication Minister Issa Tchiroma has described the withdrawal as blatant injustice.