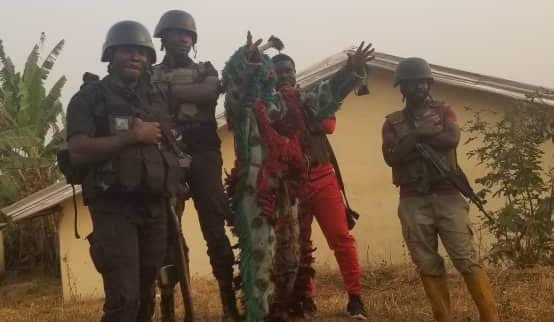 Pictures and videos have circulated on social media showing Cameroon soldiers posing with "Wanmabuh", a dreaded, Masquerade 'juju' from the Ngiri sanctum from the palace of Mbiame, in Bui Division, northwest region. This has angered the Nso community who laments that it is not only a disrespect for their tradition but also an abominable act from the soldiers sent to maintain peace in the area.
The pictures and videos reveal a group of soldiers posing with the 'Juju' and then the 'Juju' displaying in front of them as they watch with guns. No one knows whether the 'juju' and its members were forced to do that during the current controversial Mbiame Cultural festival or not.
"Only members of that deity are allowed to come close to the masquerade, let alone touching it." A villager told our informant.
Since the outbreak of this current war in the northwest and southwest regions, Cameroon soldiers have displayed no respect for people's culture and traditions as they ransack into sacred traditional places rough handling sacred items and even molesting traditional rulers.
They invaded the UNESCO protected Palace of Bafut in the northwest region and destroyed relics found inside. https://www.hrw.org/news/2019/10/11/world-heritage-site-attacked-cameroon Human Rights Watch said that " In September 2018, BIR soldiers destroyed parts of the Bafut palace roof, again on the pretext of searching for separatists. In the 2018 and 2019 attacks, no separatists were found."
In Nkambe, Donga Mantung Division, Soldiers have been seen walking with masquerades and even entertained by the most dreaded in villages.