Front page
Society
Wednesday's Round up Anglophone Crisis: NW Governor Debunks Change in Curfew Schedule, Tracks Warn Buea Chiefs Against May 20 Celebrations and More…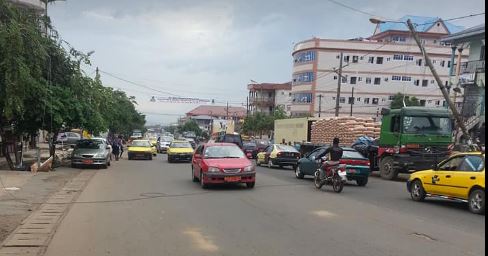 BUEA, Cameroon-Wednesday May 16, 2018-7 PM Local Time( Cameroon News Agency)The time limit set for inhabitants of the North West region to return home going by a recent curfew has not changed , the governor of the region, Adolphe LELE L'Afrique has said.
He described as false, information circulating on social media that the curfew in the region has been brought three hours forward, from 9 pm to 6 pm.
In a release signed Wednesday, Mr LELE L'Afrique noted that curfew starts at 9 pm and ends at 5 am, during which circulation is prohibited.
He appealed to City dwellers to mount blocks against calls for May 20 boycotts.
Threats on Lives of Buea Chiefs
CNA correspondent in Buea, alerted central news desk of tracks found on streets of Buea warning Chiefs against taking part in May 20 celebration, marking 46th edition of Unity Day.
The tracks cautioned that any Chief found at Bongo Square will be dealt with accordingly including his family.
The authors are not known but Ambazonia fighters who recently orchestrated gunshots in Bonduma are prime suspects.
Buea Continues to Swell With Displaced Persons From Ekona
Several households in Buea Subdivision, Fako Division in the South West region are now harboring dozens of internally displaced persons who fled violence from neighboring Ekona, a town in Muyuka Subdivision.
Children, women and elderly persons make majority of those fleeing from violence. This is as a result of attacks carried out by Ambazonia fighters on Military in the area, and knowing the brutal nature of Military response on the locals, the only safe haven now is Buea.
As some displaced persons are entering Buea, many Buea denizens are instead fleeing the town for fear of the unknown.
Konye Grandstand Set Ablaze
Reports filed in by our correspondent in Konye has confirmed the burning of the Grandstand in the locality ahead of May 20 March Past. The perpetrators are not known.
Bishops Make Distress Calls For Dialogue 
The National Episcopal Conference of Cameroon has called on an urgent mediation in the ongoing Anglophone crisis.
Archbishop Samuel Kleda, President of NECC on behalf of the Bishops said Cameroon should be spared from a useless and senseless civil war.
The Bishops have declared their unflinching support to victims of the crisis.
This is a rare moment when all Bishops are speaking one language in the 10 regions of Cameroon since the crisis started.
Bishops of the Bamenda Ecclesiastical Province appeared to be elaborate and direct in their letter to President Paul Biya while the NECC had been soft in their approach.
The Catholic Church in Cameroon has been described as weak by International Crisis group whose members were on a mission in Cameroon recently. They noted that unlike other countries, the Catholic Church in Cameroon was doing very little to solve the crisis.
Police Commissioner and Two Others Killed in Oshie 
The corpses of the Commissioner  and two Police Officers have been deposited in the mortuary following their brutal killing Wednesday by unknown men suspected to be Amabzonia fighters in Oshie, Momo Division, in the North West region.
(Picture Kum Leonard)
Since we started one year ago we have made huge steps in fighting fake news and propaganda thus improving quality and trust in journalism and we want to keep you involved in our work. If you enjoy our reporting, donate today on Mobile Money or call 679 700 696 for details.