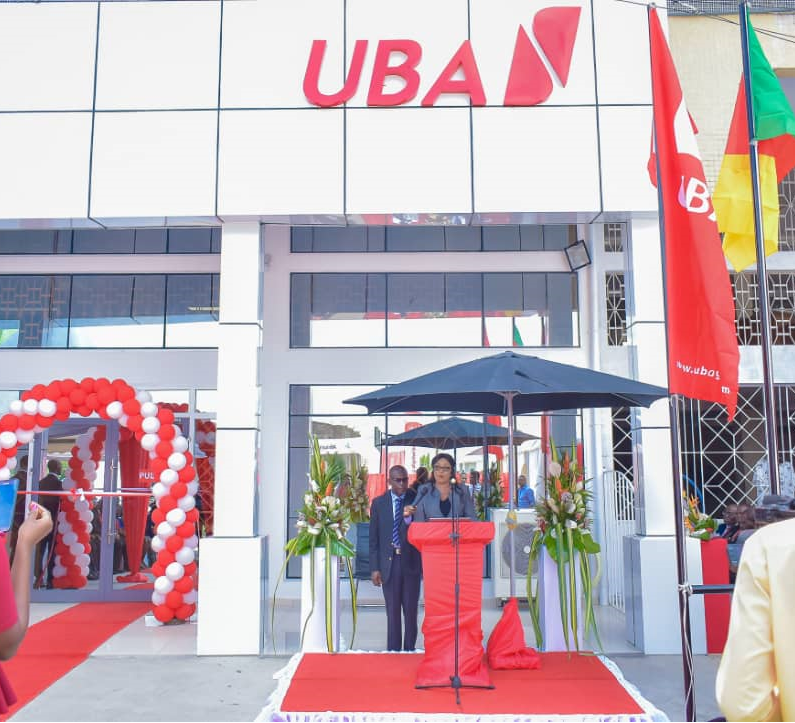 The new branch was officially commissioned last Friday, November 8th, 2019. The ceremony was presided over by the Divisional Officer of Douala 5, assisted by Dominique Mahend and Marguerite Atanga, respectively Managing Director and Deputy Managing Director of UBA Cameroon.
Dominique Mahend made the announcement on November 30th, 2018, during the opening ceremony of the 16th UBA Branch in Bonaberi, in the Douala 4 Sub-division. The 17th branch of the pan-African bank network is now fully operational. It is the second in the Douala 5 Sub-Division and the 8th in the town of Douala.
Marguerite Atanga, Deputy Managing Director of UBA Cameroon, addressing guests, said the opening of the Bonamoussadi branch is explained by "the major changes observed in the economic and social landscape of Douala 5" in just a decade.
 The branch opening was the occasion for Marguerite Atanga to reveal the wide spectrum of UBA Cameroon's services and actions: "Contribution to the financing of major Cameroon State projects, as well as multinational and other companies; commitment to finance local companies, especially SMEs, accounting for more than 80% of the economic landscape; strong participation in financial inclusion and facilitation of people's access to bank services by opening bank accounts with an initial deposit of XAF 1,000; innovative digital banking solutions like Magic Banking or Leo; emphasis on social responsibility through several initiatives in schools, hospitals, orphanages, etc
Douala 5th now has large and small enterprises that create many jobs, a diverse population of nearly 5,000 inhabitants. Opening a UBA branch in Bonamoussadi equally responds to the bank's need to be close to its existing and new customers. The representative of the Divisional Officer of Douala 5th, on behalf of the government, insisted on the social aspect of the pan-African bank's services: "the profit motive must not be at the expense of service and customers, with prohibitive bank fees. The costs on transactions must be reduced." Moreover, she invited the new team of Bonamoussadi to pay attention to "quality of service, speed, friendliness and customer awareness on online channels".
Operating in Cameroon since December 2007, UBA now has more than 100,000 customers nationwide. With the opening of the Bonamoussadi branch, the people of Douala 5th will now enjoy the various services offered by the bank (Mobile banking, U-direct, E-statements, E-alerts, etc.) Located at the entrance to the largest Sub-division of the Wouri Division, the UBA Bonamoussadi branch is headed by Mathurin Voundi. It has two floors, a dozen offices, and 3 ATMs.