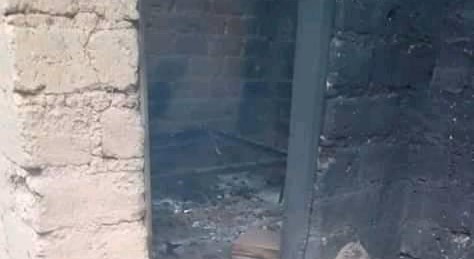 Thursday March 14, 2019 was a bloody day in some villages in the North Wets region of Cameroon following a scorched earth policy perpetrated by Cameroon's soldiers on the population of these areas.
This policy was once defended by former Communication Director at the Ministry of defense, Col Badjeck who said that in cases where some villages are accused of hiding Ambazonia fighters, burning of houses is enviable. This reaction was made after soldiers were caught on camera setting houses ablaze in Azi, Lebialem division. The soldiers have been given green lights to burn houses and in doing so, they kill, loot and destroy. They have even been defended internationally by Foreign Minister as "very professional" soldiers who respect human rights.
So, it all happened that some villages were going to be targets early Thursday March 14, 2019 in a continuous burning spree.
WUM, MENCHUM DIVISION- 4 BURNED ALIVE, 3 SHOT DEAD, TWO INJURED-LEG AMPUTATED
Cameroon Soldiers stormed the Ko'oh- Kesu village in Wum and started shooting, targeting civilians. They burned the Ko'oh Palace in Kesu and shot dead three boys and two of the Fons' wives were shot on their legs. One of the wives had her leg amputated following the damages caused by the bullets.
The soldiers went to Zonghontia-Kesu village and continued the burning spree, putting down a small house with four boys inside. CNA has gathered that the boys were taking care of someone's Coffee farm after the owner had escaped last August 2018, when Soldiers raided the area. The boys burned alive are: Tem Eziagha, Ngong Ewi Chang, MVO Eziagha and Gilbert Fung Ekei
CHUP- 6 KILLED (GUNSHOT AND FIRE) HOUSES SET ON FIRE, MANY WOUNDED
Soldiers stormed Chup village in Nkambe Central subdivision, around 4am burning houses and shooting civilians.
A certain NFORMI TANGIRI lost two of his children, a woman living around him called, Ma Yaah, one child still unidentified, One Man who lived in the compound of late Bako. They also killed Nsame and burned Pa Tata alive in his house at Boyong quarter. Chup village is now ghosted as villagers have taken to their heels for fear of the unknown.
The Fon of Chup , HRH Njofor Maurice has said, all those who are homeless should go to the Palace for shelter while sons and daughters find out a solution.
CHAD-NWANGRI-1 KILLED
Emmanuel NKfonku was dragged from his house and killed around 3am. Reports say, his son is battling for his life after he was shot on his mouth about one month ago.
MBA'A VILLAGE
The military was less destructive in Mba'a village. They raided houses of Japheth Nfu, Pa Japheth Nfu, Johnson Nginyu, Ndi Elo, Japheth Nfu, Quinta Cheche, destroying properties and looting some. They burnt beds, chairs, windows and doors.
They are said to have taken away a decoder and regulator of a resident. Mba'a village is not a host to any Ambazonia fighters camp, the people have been wondering why they were attacked by the men in uniform who have now become more destructive than protective.