Front page
Politics
The Film of Kamto's Arrest: The Intrigues, The Press And The Intimidation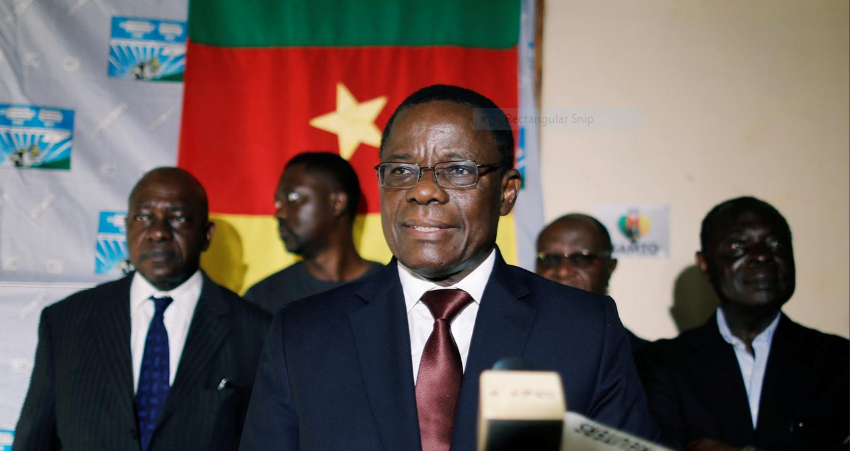 BY NFOR Hanson NCHANJI
Anyone who listened keenly to the outing of Territorial Administration Minister, Paul Atanga Nji, Saturday night will not be surprised to see Cameroon Rennaissance Movement's President, Maurice Kamto and Co arrested today. Behind the threat to ban the party, was a clear sign of arrest followed by propaganda by usual Newspapers paid to do the job; alerting everyone that Kamto had crossed the red line and needed to be arrested. Needless reminding us how Cameroon's "Television Milles Collins" Vision 4, even gave instructions for the arrest.  
The State gave Kamto and Co a Sunday of grace, while following up their movements for an eventual arrest. On Monday January 28, 2019 when they were assured that Professor Maurice Kamto and his close collaborators, Christian Penda Ekoka and Albert Nzongang were at the residence of Mr Nzongang, certainly evaluating their actions of last Saturday January 26, with other supporters, Police were sent there around 4 PM local time to encircle the place.
First Gunshots At Residence of Albert Nzongang 
As Police encircled the compound of the politician,waiting to catch their "big fish" , supporters of CRM grew in number after following updates on social media, the place became rowdy and the Policemen who came with just service vehicles felt they could be overpowered by the supporters. An anti-riot vehicle arrived with anti-riot police ready for any eventuality. Inside the residence of Albert Nzongang were angry supporters waiting to devour the uniform men. The first gunshots were heard at about 8: 25 Pm, a warning signal by the Police; meaning they did not come to play.
Police Break Into Residence And arrest Kamto  
As night approached around 8: 48 Pm, Police succeeded to break into the compound of Albert Nzongang and arrested the trio. They were later taken to the Bonanjo Judicial Police in Douala. Celestin Djamen who was on his sick bed at the Douala General Hospital, was dragged out, tortured and taken to the Judicial Police.
Supporters Go Wild, Burn Tyres, Block Roads, Embassies 
The news of Kamto's arrest spread everywhere like wild fire in the dry season, before 9PM, CRM supporters had blocked major roads leading to Douala. Those at Mobil Guinness, where the arrest took place, burned tyres on the road, shouting Libere! Libere! meaning Free! Free!
CRM supporters in the Diaspora and some Cameroonians under the banner of Brigade Anti Sardinards, BAS, besieged the Cameroon Embassy in France, US and UK but were quickly contained. It seems their actions were closely followed by local Police which prevented them from performing a second action in just two three days.
Akere Muna Reacts
An Ally of Kamto in the October 7 Presidential election, Akere Muna, reacted by saying " In this unfortunate attempt to show strength, we discover a government too weak dialogue, too incompetent to understand the cry of its people. The greed of the oligarchs who have captured this State is pushing them towards self-destruction."
Maurice Kamto, Others Transferred to Yaounde
That same night Kamto and Co were transferred to Yaoundé, the country's capital. It is not clear whether they will be jailed at Defense State Secretariat, SED or the Kondengui Prison. Other top party members of CRM have also been arrested. Artist Valsero and former Mayor of Njombe Penja, Paul Ric Kingue, were both arrested last Saturday.
Maurice Kamto who was on the second spot in the 2018 Presidential polls is still claiming victory. The party has said, incumbent Paul Biya rigged the election and used Executive powers to keep the mouth of judiciary shut.